Two years in paradise begins ...
Posted by

Namani

on

Monday, 1 August 2011
43° 47' 24.6" N, 70° 10' 13.8" W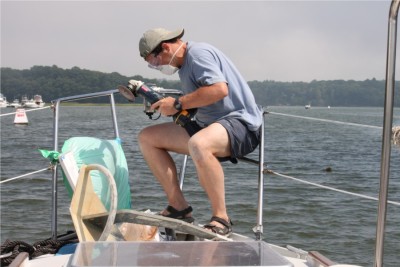 ... with some more grinding and glassing...
A friend commented yesterday that the picture on our homepage was very inconsiderate towards "those who stayed behind". So Urs: To make you feel better, we're posting the picture above...
When checking the anchor roller on the bow prior to stepping the mast last week, we found some play between roller bracket (to which also the forestay attaches) and the hull. Hence no mast yet and some more re-work - involving a day of some contortion acrobatics below deck and a day of grinding above deck. Hope to put some fiberglass on tomorrow, re-bed anchor roller on Wednesday and then we could have our mast back on Thurdsday! While we'd rather be sailing, we're also glad that we discover this stuff here, with excellent facilities and expert advice at Yankee. Stay tuned...