Theory Meets Reality...
Posted by

Namani

on

Tuesday, 7 January 2014
32° 43' 0" S, 152° 10' 24" E
Cruising along the Australian East Coast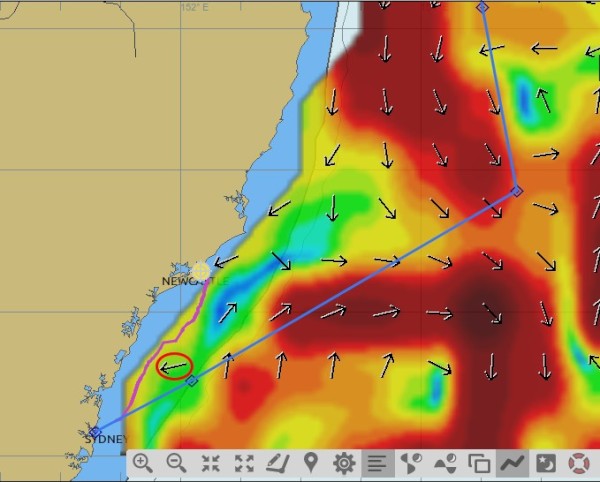 We left our anchorage in Middle Harbour's Sugarloaf Bay yesterday morning, made the 11:15am opening of the Spit Bridge, and sailed out between the Heads that mark the entrance to Sydney around noon, bound for Brisbane (about 300nm off the northern edge of the chart image above). So far so good. The plan was then to sail out to the NE as shown by the blue line in the above image Overlaid over the chart above is Meteo France's current prediction for this area (arrows denoting direction of current and color shading denoting current strength). The East Australian Current (EAC) generally sets to the south along the coast but we thought we could avoid the brunt of it by going to the east of it's main axis and taking advantage of a few eddies along the way. With the forecast south to southeasterly wind that looked like a sensible option. At least in theory.
In reality the wind had a bit more east and a bit less south than expected. Even close reaching we didn't make it beyond that first adverse current arrow circled in red above. The pink squiggly line shows Namani's actual track, indicating that at points we were wondering if we'd even make it around Point Stephens... So shortly after noon today we found ourselves just outside the entrance to Port Stephens. At this point the idea of getting "to the other side" of the EAC had been binned and we thought we might as well get a good night's sleep at anchor. So we turned in and dropped the hook in Shoal Bay, just behind the entrance. We'll be at it again tomorrow morning, this time trying to stay inshore of the worst of the current. We'll keep you posted how that will work out ;-)
Adverse currents notwithstanding, we had a wonderful two weeks in Sydney - thanks heaps to (in order of appearance, as they say in the movies) Tina, Philipp, Jack, Lee, Tab, Jez, Deb, Al, Di, Bruce, Margaret, Moe, Julia and Tony! And to the Manly Ferry captains who make sailing in Sydney Harbour such a thrilling experience ;-)