Surf's Up!
Posted by

Namani

on

Monday, 19 May 2014
Pangandaran, West Java, Indonesia
7° 40' 48" S, 108° 39' 0" E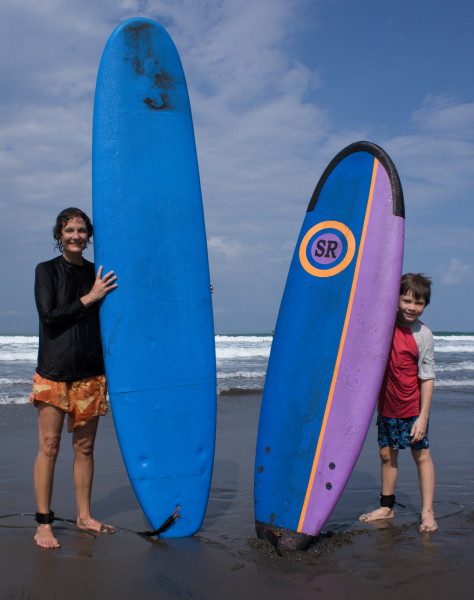 After a relaxed few days with Steve and Margaret in Jakarta we caught a train to Yogyakarta in Central Java. We spent a day visiting the Buddhist temple at Borobodur and a Hindu temple in Prambanan before catching the bus to Pangandaran, our current location. It's a beach town on the south coast of Java that was last hit by a Tsunami in 2006. It got little news coverage in Europe back then (the big one was 2004) but still had over 700 people dead here. Tragically, the government had chosen not to pass on an advance warning received from Japan.
There is still lots of small scale construction going on as people build or rebuild guest houses and other tourist infrastructure. Even during the week foreign visitors are the in the minority - it's clearly a local destination from many Indonesian families which makes for a nice mix (on the weekend you hardly notice the foreigners at all). Nicky and Nana have 'gone dude' and are taking surf lessons while Markus waits for his shoulder to become fully mobile again. Two more days before we'll return to Jakarta. It's nice to hear the ocean surf again ;-)