Ready for the Canal
Posted by

Namani

on

Friday, 13 January 2012
Shelter Bay Marina, Panama
9° 22' 6" N, 79° 57' 6" W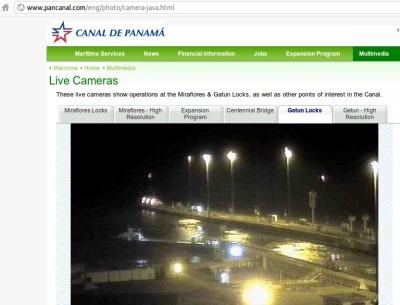 Eric, our very helpful agent for the Canal transit, dropped off our four "Panama lines" (125 ft each as required by Canal regulations) and 12 tires today (these will serve as sturdy fenders). He also informed us that our "Advisor" (a small craft pilot for the canal transit) would join us at 1730 local time tomorrow (Sat, 14JAN) in the "Flats Anchorage", just outside the Canal entrance. We plan to leave Shelter Bay around 1300h tomorrow and make our way to the Flats to wait for the Advisor there. We should then make our way through the three stages of the Gatun lock which should take us up 26 meters tomorrow night. We will then anchor/moor in Gatun Lake where a new Advisor will join us early on Sunday morning to accompany us on the "way down" through the Pedro Miguel and Miraflores locks. If all goes well, we should reach the Pacific side early afternoon on Sunday. We plan to pick up a mooring at the Balboa Yacht Club there.
If your interested, you can actually watch us go through the locks on the Canal's webcam (see screenshot above):
http://www.pancanal.com/eng/photo/camera-java.html
Depending on when the Advisor actually joins us, we should be in the Gatun Locks between 1900 and 2100 local time (same as Eastern Standard Time, 5 hours behind UT) on Saturday evening. On Sunday, we expect to reach Pedro Miguel lock around 1130 local time.
By the way: We'll have a very international crew for the transit: Our three additional line handlers will be Sylvia from Japan, Victor from the Czech Republic, and Hobin from Quebec/Canada. Stay tuned...