Over the Line!
Posted by

Namani

on

Thursday, 8 March 2012
70nm to go to the Galapagos
0° 22' 60" S, 88° 37' 9.6" W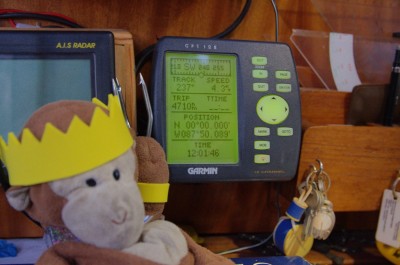 We crossed the equator this morning at 7am local time (EST) and Namani is now officially in the South Pacific. We had the proper initiation procedures that turned all us Polywogs into Shellbacks. The role of Neptune was played by Nicky's stuffed monkey Frodi (manufactured in SE Asia and therefore the only one aboard wh o had crossed the equator before by boat), assisted by Mr. H (Nicky's other stuffed monkey).
Wind has backed and we have been on a broad reach since last night. Put the Parasailor up this morning and made good and comfortable progress. Now (2030 local time) the wind seems to be dying and we may have to douse it. If all goes well we'll reach Cristobal in the Galapagos tomorrow midday. Stay tuned...