New Zealand - Week 1
Posted by

Namani

on

Saturday, 1 December 2012
Anchored off Opua, Bay of Islands, New Zealand
35° 19' 0" S, 174° 7' 60" E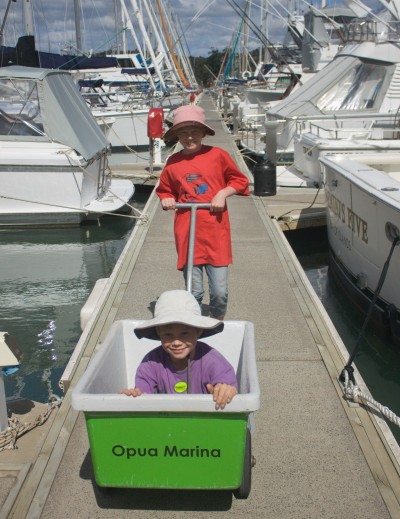 It's just a little over one week ago that we arrived here in Opua - time for a little update. Clearing into the country last Saturday was a pleasant 15 min affair - friendly, pragmatic and effective, a nice change. The drug dog (a very cute retriever-type - an instant star among the kids on the Q dock) was sent into the weekend before it got to Namani; I guess we didn't meet the "threat threshold"...
We got lucky and could move straight from the Q dock into a slip at Opua Marina for a few days. Stepping ashore, it was very nice to re-connect with those boats and crews that had arrived ahead of us. The 250m from Namani's berth to the ice cream store took us almost three hours on Saturday afternoon because we kept running into old acquaintances and friends... On Saturday evening at the local yacht club we then finally had a chance to meet the crews that had been on the German "Drifter Net" with us - especially Detlev and Beate from Kira and Helmut and Kerstin from Lop To, who had provided such excellent weather guidance. Victoria had originally planned to sail to Whangarei, some 50nm further south. However, strong southerly winds on Saturday blew them into Opua late Saturday evening and we were happy to see them here before we have to temporarily part ways.
On Sunday then we had our long awaited reunion with Jo, Dave and Beth from Seabright, who drove up here from Auckland for an overnight visit. Ever since we parted ways in Bequia in February 2008 (they sailed on to NZ and we continued north, eventually to Portland, Maine) we had hoped that before too long we could "catch up with them". Seeing them here in NZ after having sailed in on Namani has been our "finish vision" for this journeyin the same way that sailing past Portland Head Light was the image we had envisioned for the finish of our 2007/2008 seabbatical. We had a great 24 hours catching up with each other. Meanwhile, Beth and Nicky were putting the marina's curtesy carts to good use (see picture above). Now we look forward to sailing with Seabright again when the Naylors have their vacation in a week's time.
The next few days then felt a bit as if we were moving into the country: We got a bank account, a phone, borrowed a car to go to the hardware store, ... Expecting to stay in NZ for six month makes this feel very different from all of the transient stops over the past 12 months. Now things have settled down a bit. We finally moved out of the marina and are now at anchor again in frint of the harbor. We have to get some bank business done in Pahia on Monday and then we can go crusing again!
There have been repeated requests for more pictures on this blog/Picasa. That was a bit difficult over the past months because internet access was rare and access speeds were glacial where it was available. We will put up some new albums over the next few days. In the mean time you can have a look at two little video clips from our passage to NZ.
The first one shows Namani sailing towards NZ on the morning of 23NOV, about 12 hours before our arrival here.
The second one was shot a few days earlier during a musical intermezzo aboard an almost becalmed Namani.
PS: Had a lovely evening tonight with Amy, Eric and their daughters Martha and Audrey aboard their Bill Tripp yawl "Papillon". Apparently, William F. Buckley had crossed the Atlantic on that very boat many years ago. Now we have to re-read "Airborne" and "Atlantic High" to see on which crossing Papillon was featured...
>> Correction (as per Papillon's comment to this post): It was Sealestial, Papillon's sister ship, that featured in Buckley's 1983 "Atlantic High".