Moored at Olbia, sitting out a gale
Posted by

Namani

on

Wednesday, 11 July 2007
39° 55' 48" N, 9° 41' 36" E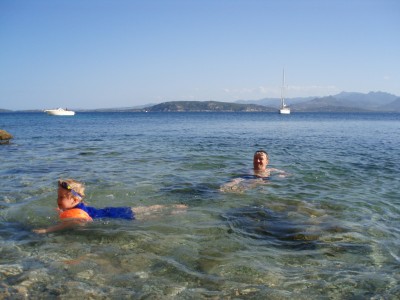 A quick update a week into our trip... We left St. Maria Navarrese on Sunday, July 8 at 6 am, sailing up the 60 nm up to Capo Coda Cavallo (just southeast of Olbia) where we spend a beautiful night at anchor (pictures to follow). While we had sailed this stretch multiple times before in either direction this was the first time we did the entire leg during daytime so we actually did get some new views of the cliffy and undeveloped coast line.
On Monday we then motored and sailed just 3 hours into Olbia, where we tied up at the Circolo Nautico Olbia, a small private yacht club that appears to be very welcoming to visiting sailors. The remainder of the day was pretty much taken up by doing some errands. We picked up some topcoat paint which we had ordered before from Germany from a local distributor (Nicky fell asleep at the store so the patrons provided Nana with a big office chair to sit down with him in the middle of the show room...), did the first batch of food shopping for the next leg, and got some smaller items at a hardware store. Olbia actually provides a nice contrast to the jet-set Disney Land that the Costa Smeralda just north of here has turned into - a real little city with real people, a little scrubby in some parts but with a lot of character and a nice town center.
On Monday night our friend Cath arrived from Bejing via Munich to join us for the next stretch until Reggio Calabria at the southern end of the Italian mainland. A nice reunion after Cath has been working in China for two years with a lot of catching up.
Starting Monday afternoon, a passing low and cold front (probably combined with some Mistral) brought some gale force winds which are forecast to continue until tonight (Wednesday). So rather than leaving on Tuesday morning for the Aeolian Islands north of Sicily we stayed put at the Circolo Nautico and spent yesterday working down our to-do list of little projects (changed engine oil and filter, fixed control box for anchor windlass, finished the SSB installation, mounted a second fire extinguisher) and doing the second batch of provisioning.
Last summer we were stuck for three days, sitting out a gale in an anchorage close by and getting impatient as the days of our 2 week vacation were ticking by. It's a nice change now to have no time pressure but the luxury to wait for better weather and enjoy our time here in Olbia (and there's still plenty of stuff left on the to-do list to keep us busy around the boat...).
So our new estimated departure time will likely be this afternoon or tomorrow morning - weather permitting. Stay tuned...