MAINE!
Posted by

Namani

on

Monday, 23 June 2008
43° 39' 13.8" N, 70° 14' 57.6" W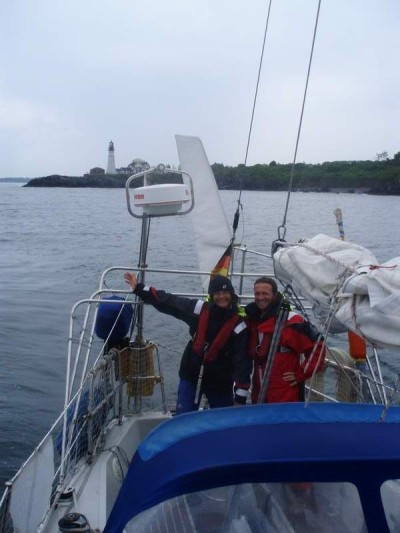 We rounded Portland Head light at about 1600 yesterday afternoon and tied up in Portland shortly after that. The fog stayed with us for most of the day and around 1400 the National Weather Service issued a severe thunderstorm warning for parts of SW Maine. Luckily, the band of thunderstorms kept moving NE just ahead of us and we just got some peripheral rain and wind. So we did get our picture in front of Portland Head light in the end - maybe in more "Maine-like" weather than we had hoped for...
We celebrated the completion of our year-long journey with a nice dinner at the Seabago Brewing Company (they do an excellent wheat beer which they even name "Hefe-Weizen"!) before turning in under piles of blankets...
Ralf had to catch a train back to Boston early this morning and we will probably move to a mooring off Peaks Island and sit out another day or so of fog and rain before we can hopefully do a few days of coastal cruising around the Casco Bay area. It will take a few days to mentally catch up with finally "having arrived"... stay tuned and thanks to everyone who has followed us via this blog!