On the hard
Posted by

Namani

on

Monday, 6 August 2012
16° 44' 10.2" S, 151° 29' 3.6" W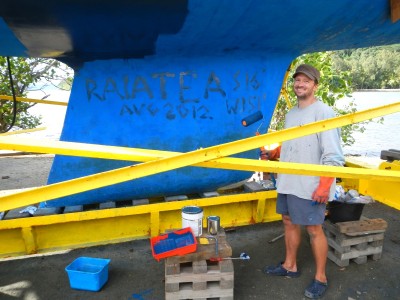 Almost exactly one year ago we posted a blog entry with a very similar picture - that time still at Yankee Marina in Yarmouth, Maine. About 12 months and 10,000 nm later it was time for renewing Namani's anti-fouling bottom paint, give its top sides some care and repair some keel damage we had suffered when running aground in Yarmouth' Royal River, right after launching Namani.
Those three jobs are done now (almost - some touching-up left for tomorrow), and we're scheduled to go back into the water on Tuesday morning. Meanwhile we were happy to see the crews of E Capaoe (remember that mid-Pacific rendez-vous?) and Samba again who are on a mooring outside the yard. Nicky got lucky, escaping boat work today and going on a hike with Merlin, Valerie, Zoe, Sam, Luke and their parents.
Now we look forward to be waterborne again soon... stay tuned.