Happy New Year from Tauranga!
Posted by

Namani

on

Wednesday, 2 January 2013
Tauranga Bridge Marina, New Zealand
37° 40' 12" S, 176° 10' 42" E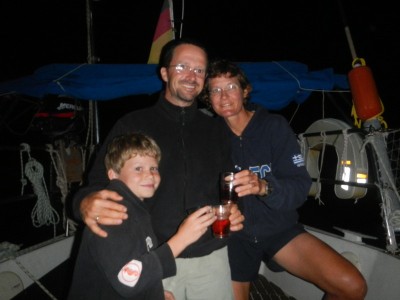 Surprisingly, we had the bay at Te Kuoma to ourselves on New Year's Eve (the other boats had moved out when the wind shifted to the SW and we still had reasonable protection in our corner). So we toasted the new year on Namani under a starry sky and then left early on 01JAN to head towards Tauranga, with a stop in Mercury Bay. We arrived in Tauranga yesterday (02JAN) on the afternoon slack tide (4kn+ current in the entrance to the harbor at peak ...) and are now docked the Tauranga Bridge Marina. We plan to knock some boat jobs off the list, visit the Tongariro National Park, and then head north again at the end of January.
Tauranga is actually NZ's biggest port and the vast majority of cargo seems to be handled here. A very different view from Auckland's waterfront which was dominated by recreational boating and ferry traffic.