Florida (yes - Florida)
Posted by

Namani

on

Sunday, 18 May 2008
16° 58' 60" N, 61° 42' 54" W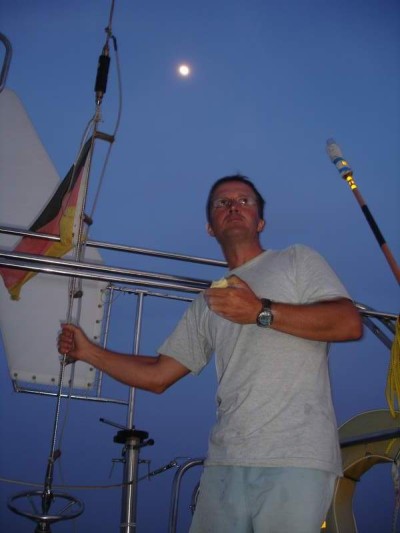 Hard to believe how our actual route has diverged from the original plan ... but plans are made to be broken, right? In the past 2 weeks we covered a lot of water - over 1000 miles since leaving Puerto Rico - and experienced a few small mishaps along the way, but also some great sailing.
Leaving Puerto Rico, we bumped through some sizable seas - not really much to write home about, but after 2 weeks ashore they were big enough to make 3 of us seasick! Too bad: it's a first for me aboard Namani in our many months of sailing. The seas and wind died eventually and had us motoring over much of the 400 miles over 3 ½ days to Turks and Caicos, where we elected to make a short 2 night stopover. I prefer to break up longer passages if there is an island along the way and it was nice to sample a bit of Grand Turk and to get a solid night's sleep. The people were very friendly and Grand Turk has many beautiful historic buildings, creating a pleasant atmosphere that is unlike any other island we have visited.
From there we set off toward Beaufort, North Carolina, ready to stop off in the Bahamas if the weather turned ugly (Ha! And here we are in Florida! Read on ...). The weather didn't turn ugly, and in fact it was so calm that we jumped into the 2800 meter deep waters of the open sea for a swim. Nicky didn't hesitate to jump in and we had to keep a good eye out that he didn't actually paddle away. Meanwhile, further north, low pressure systems were still exiting the US East Coast in quick succession, precluding any direct course towards North Carolina (and making us doubly glad that we opted not to sail via Bermuda at this time of the year).
The days blur a little in my memory, but somewhere a long the way, we experienced Problem Number 1: a ripped mainsail. From the raging Atlantic winds, you ask? No, from forgetting to untie one of the reef pennants when shaking out a reef too enthusiastically! Dumb mistake, but what can you do? (Actually, what you can do is feed on your husband's guilt by claiming a portion of his share of the freshly baked brownies. Yes, I did stoop this low.) So we sewed the tear and now Namani sports a Frankenstein Sail (the husband thinks that's a bit of an exaggeration). It just needs to survive another 1000 miles to Maine...
Problem Number 2 was the engine not starting when we wanted to spin some sea weed off the propeller. Markus poked and prodded in fine German Engineer fashion, but to little avail. After some debate and a wind shift, we decided to head on a more favorable course towards Grand Bahama. We did have great sailing on a close reach along the way, first with a cold front and associated lightning passing just to the north of us one night and a bizarre smoke cloud covering the sky the next evening (we later learned that this was a controlled forest fire on Abaco Island).
540 miles/ 4 days out of Grand Turk we were approaching Port Lucaya on Grand Bahama Island and needed some means of getting into the harbor without our engine. Happily, we had just invested in $150 tow insurance (our new best friends are the captains of Sea Tow! Read on ...), so we were able to get a tow. Port Lucaya turned out to be a painfully expensive stop, with the high entry fee to Bahamas, the marina fee, and the mechanic fee. In the end, the mechanic identified the problem as being a sticky part of the shut-off mechanism in the injection pump, but it was Markus who actually repaired it. So after only one night in the Bahamas, we were off again to make the 24 hour crossing to Florida.
Just a few miles out of Grand Bahama, again motoring through too little wind, the motor cut out all by itself. Problem Number 3 was upon us. Markus tried with Great Patience and Admirable Perseverance to repair the beast, but his heroics went unrewarded: there seemed to be some congestion in the diesel injection pump and in our attempts to pinpoint the problem we got the shut-off mechanism jammed in the "off" position for good. So we proceeded toward Florida at a stately 2.3 knots. That is, until 02:00 when the wind picked up and we entered the Gulf Stream; then Namani was cruising at 8 knots over ground (actually peaking at 9+)! Oh, and (small) Problem Number 4 also had to be addressed by sending said German Engineer up the mast at sunset when the masthead tricolor did not come on to show our position to the Large Scary Motor Vessels Hopefully Keeping Watch during our night sail. He had it fixed in a snap, and the sail to Florida turned out to be one of the nicest on our list of nice sails, with calm seas, good wind, a nearly full moon, and a starry, starry night. By afternoon, we were being towed (once again; that $150 insurance really paid off!) into a Fort Pierce marina, after another minor mishap involving our tow vessel running us aground outside the marina. Promptly solved by same tow vessel. No tip given!
Yikes! So a lot has not gone according to plan but then again, nothing too bad happened. We did enjoy the good sailing and the time spent with Bill. Another good lesson to remember about sailing: for all the small things that go wrong, true trouble somehow usually stays at arm's length. Now on US soil, we dutifully called Customs (excuse me, Homeland Security) to register ourselves. A lengthy recorded message got me to option 9, enter the US, which got me to a recording that they were unavailable and to leave a number. So much for alert status "red"!
Our entry status into the US unresolved, we proceeded to rent a car and tour Florida. On Saturday, we drove to Cape Canaveral where Nicky admired the rockets, then on to Orlando, to drop off Bill for a flight home (poor Bill originally signed on for a promised passage via Bermuda! Sorry, Bill!), then on to Florida's Gulf coast to visit my sister. We retraced our route today with a second visit to the Space Center (tickets are good for 2 days, and you need it) on the way back to Namani.
Now we await Monday and the Beta Marine mechanic who holds our fate in his hands (together with his partner in crime - the weather). Will Namani be on her way soon, and make good progress to Maine? Will the Beta engine roar back to life and treat us well forevermore? Will we be stuck in historic Fort Pierce (established 1837) for a longer stay? Will we have chili or spaghetti for dinner? Stay tuned ...