At Chart's End... A Recap
Posted by

Namani

on

Friday, 25 November 2011
18° 10' 48" N, 76° 27' 12" W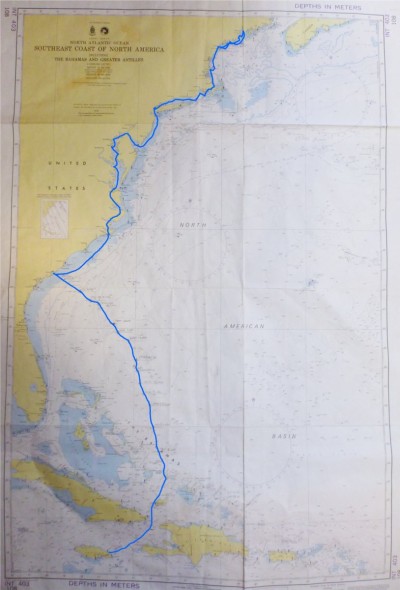 It's been almost 3,000 nm since we set sail from Portland on 02SEP and we have covered the full length of our NW Atlantic Chart (see bright blue line in picture above) - time for a little recap.
Between work on the boat taking longer than expected and hurricane Irene making it all the way up the East Coast, we started sailing about four weeks later than originally planned. This shortened the time we had available for crusing the Maine coast. The upside was: no fog in September, good sailing wind and no crowds after Labor Day. So we had a great time going from Casco Bay up to Penobscot Bay and back in two weeks, with the added benefit of being the only boat in some of the most beautiful anchorages we have seen (e. g. Seal Bay on Vinal Haven). Plus short but memorable reunions with Fred and Susan from Spirit and Tracy and James of Island Girl fame. We do understand now why non-Mainers who have circumnavigated the globe cite the Maine coast as their favorite cruising ground...
Back in Portland in mid-September we started the journey south. We finally had a chance to hit all those places along the East Coast that we had passed by on our way north in 2008, when we essentially sailed from Florida to Maine in two long off-shore legs. Isles of Shoals, Buzzards Bay, Cuttyhunk, Newport, Block Island, New York with a sail down the East River, Cape May and the Chesapeake Bay were all high on our list and we enjoyed them all. An added plus was the opportunity to share some of these with Maggie and Bob on Decoy, including a very memorable dinner aboard Decoy while anchored off Block Island.
There were also a number of very nice surprises - places that weren't (high) on our original list but that we stopped at for one reason or another and that really positively surprised us and had us stay an extra day or two: Castine in Maine, Gloucester, MA (including a very nice dinner with Ralf and Bibi who came up from Lexington), Annapolis, the Coan River in Virginia (with a reunion with Liz, Jeff and Jen from Boundless), Beaufort, NC (where Nicky made fast friends with Henry and Anna from Timor Jack) and Charleston, SC which became our eventual jump-off point for the long leg south towards the Bahamas and on to Jamaica.
Getting a weather window for that leg across the Gulf Stream and then southeast turned out to be a bigger challenge than expected. A high degree of tropical storm activity in the West Atlantic late in the season turned this into something of a slow nail biter. Daily check-ins with Chris Parker's Marine Weather Service and crunching a number of other sources for weather data became a big part of our daily routine in those days. It came to the point where our friend Bill flew out to join us on this leg from Beaufort, NC on a Sunday only to fly back on Monday evening when tropical strom Sean thwarted that opportunity...

Discussing weather with Bill in Beaufort
In order to get at least some mileage under our belt, we decided to sail down to Charleston from Beaufort (in what turned out to be two very lumpy nights in somewhat confused seas). While that took us a bit further west of the Gulf Stream, Charleston was right on the lattitude of a favorable entry point into the Gulf Stream and eventually did gain us about 80 nm. One advantage of the long wait for the weather window was that we eventually set out at the same time as Jeff on Boundless on 11NOV (from Cape Fear in his case, bound for the Abacos), which allowed us daily radio contact on the SSB for the first three days - very re-assuring to hear a familiar voice at sea.
The six-day sail down to the south-eastern Bahamas turned out to be a tough one (at least by our comfortable standards). Sailing close hauled for five days and nights straight, with constant banging into head-on seas made for an uncomfortable ride. Only Nicky was unfazed, enjoying night after night in the cockpit watching stars and waves...

Nicky - unfazed by wind and waves
We eventually dropped the hook off Mayaguana in the south-eastern Bahamas. We couldn't have come to a better place for a break: We were the only boat in a beautiful reef fringed anchorage, off an island where the pace of life is truly different. 300 people, no bank, no ATM and no tourist infrastructure... Time to swing at anchor, cool off in turqoise water, take care of some boat maintenance and repairs, and generally just re-learning to enjoy the self-sufficiency of a cruising boat at anchor. We had no problem spending four days to have the weather settle down before continuing to Jamaica.

Dinner under starry Bahamian skies
The sail to Jamaica then turned out to be the opposite of the Charleston-Bahamas leg: Three days and nights of beautifully relaxed downwind sailing under blue skies at day and starry skies at night with (except for a squally first night) hardly any moisture in the air. Arriving on the Northeastern coast of Jamaica at daybreak this morning was a truly special sight and Port Antonio has been very welcoming to us.
Now we hope to have an opportunity to make the last big leg for 2011 sometime next week: the 600 nm to Panama. Stay tuned...
PS: A special thank you to family, old friends and new acquaintances along the way who have helped us with their encouragement, advice, friendship and practical support. You have become "the faces of this journey" for us!