Birthdays, laundry and hunting rifles
Posted by

Namani

on

Monday, 2 September 2013
Anchored in Dillon's Bay, off the island of Erromango
18° 49' 0" S, 169° 1' 0" E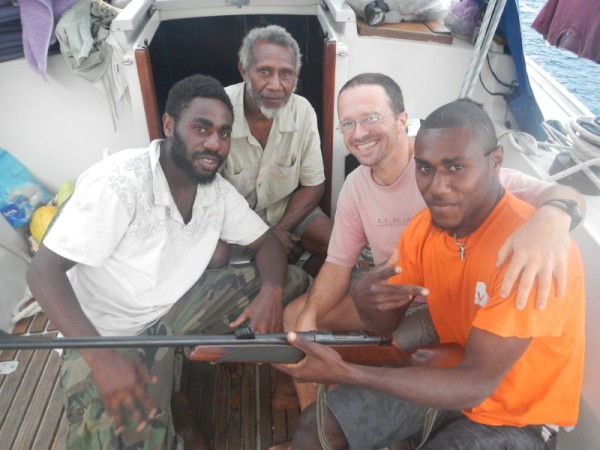 A quick hello from Dillon's Bay on Erromango where we dropped the hook on Friday (31AUG). Our friends on Victoria had already arrived a day earlier and we celebrated Niklas' 7th birthday with a fire and some singing on the beach for which we were joined by a local family on their way out to go spearfishing.
On our third island in Vanuatu we find yet another totally different scenery. A deep river valley, cut between steep wooded hills on either side. We indulged in the river's fresh water and had a laundry party yesterday (Sunday), together with the village's women. Just after returning to Namani we were visited by two young lads who were asking for help to repair their hunting rifle. Markus got lucky at his first ever rifle repair ;-)
David, an entrepreneurial older man from the village, is building a "Yacht Club" here in the bay. Quite an impressive 2-story building but still half-finished after seven years. With or without the yacht club (basically intended as a guest house), Dillon's Bay is definitely worth a stop on the way from Tanna to Port Villa. There is virtually no tourism on the island and the river with its fresh water swimming pools alone is worth a visit. We also received a very friendly welcome from David, Donald and other folks in the village. It's very disarming when you set foot shore for the first time and are being handed a sack full of fresh fruits and vegetables - the most precious commodity for us at the moment.
Before coming here we had extended our stay at Tanna for another day to be able to join Tom for a little ceremony in his village, followed by a round of kava. When we left Tanna on Thursday evening we were treated to another volcano spectacle, this time watching the eruptions while sailing past just after sunset. Looking up we thought "were we really crazy enough to walk up to the crater's rim a few days earlier?" Even from the distance it was a spectacular sight...
Now we plan to leave for Port Villa from Erromango/Dillon's Bay tomorrow afternoon. Port Villa, the capital of Vanuatu on the island of Efate will be our final stop here before continuing to New Caledonia.