Balearics - Menorca to Mallorca and Ibiza, with Nicky's 4th Birthday
Posted by

Namani

on

Thursday, 4 October 2007
37° 8' 36" N, 24° 30' 54" E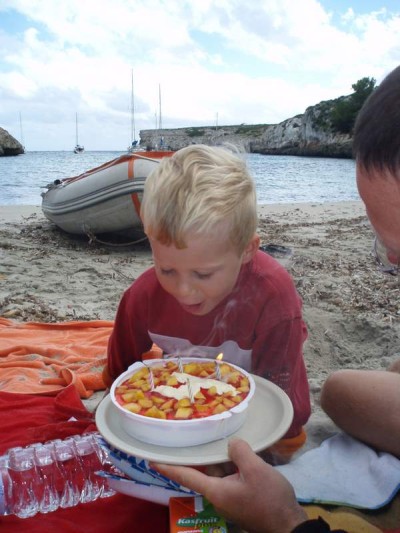 We have moved quickly through the Balearic islands but have had a lot of luck in finding beautiful and uncrowded anchorages. Leaving Mahon, we sailed a short distance along the south coast of Menorca to Calas Covas, an undeveloped cove surrounded by cliffs pocked with natural and man-made caves. There, we practiced an anchoring technique new to us - dropping anchors (bow and stern) parallel to our friends in Arearea and rafting up alongside each other. This meant we had 4 anchors to set and later to raise but it worked ideally for us. We could hand the boys across the railing to each other so they could play on either boat, and step across to share dinner or drinks. Under us was clear, turquoise water and there were only two other boats in the cove (a small cove, but very popular, even in the off season). The weather took a slight turn for the worse with clouds blocking the sun occasionally but we took little notice during the two beautiful days we spent there.
We did, however, notice the poor weather on our long leg south to Mallorca: the skies were dark and some showers fell during the day, while temperatures dropped significantly. We wore our foul weather gear for the first time in this trip. The worst, however, was the large swell coming from the beam, which made Namani's motion very uncomfortable. It was a day of light eating for us to stay on the safe side (we haven't been seasick at any point in our trip and want to keep it that way). I know we will see worse waves at some point in our trip but we will do our best to avoid them if we can!
It was with relief, therefore, that we reached Mallorca's southeast coast and Cala Magraner where we again anchored side by side with Arearea. This cove reminded us that for all its development, Mallorca also has its gorgeous corners where nature and peace reign. We were the only boats anchored there overnight when the full moon threw enough light for us to see the sand under the shallow water beneath our keels. We stayed for 2 (freezing cold) nights in this cala and it was here that Nicky celebrated his fourth birthday. Presents in the morning (lego and more lego) were followed by a picnic birthday party on the beach, celebrated with our friends from Arearea. It was a wonderful birthday despite the cool temperatures and overcast sky.
After two nights there, we had a nice, sunny sail south (this time over smooth seas) to the island of Cabrera, a protected natural park off Mallorca. Boats may tie up for free at one of the mooring buoys set in the well protected bay of Cabrera but must secure permission to do so ahead of time (we faxed ours through in Mahon). There are only a few park buildings on the island which is otherwise wild. We hiked up to the 14th century castle guarding the bay and enjoyed the afternoon at a sandy beach at Cabrera. After a full and fun day, we then left Cabrera in the evening for the overnight 70 mile trip to Ibiza which we reached without incident (and without wind; it was all motoring).
Ibiza is green and hilly and we have seen nothing of the club scene the island is known for. We bussed to the north of this small island where we enjoyed a little walk through a lovely pine park area. A burro came running up to us out of the bushes but he proved to be just another friendly Balearic native!
We had planned to be anchored off Formentera together by now but foul weather has again kept us waiting. It is very rainy and cool so we might spend a few extra days in Ibiza - all very nice except for our October 15th deadline to reach Gibraltar by (that is the date set for the flotilla we will cross the Atlantic with). We have a buffer built into our schedule but if the weather doesn't improve within a few days we might have to grit our teeth and make a dash westward. We would prefer to break up the 500 mile distance into 2 sections - well, time will tell! In the meantime, we are doing a few projects to further prepare the boat for the Atlantic while Nicky and Dante complete their important Lego and Playdough projects. Next update will be from Gibraltar - hopefully sooner rather than later!