At anchor!
Posted by

Namani

on

Thursday, 17 November 2011
22-22N 72-59W; anchopred off Mayaguana in the SE Bahamas
22° 21' 43.2" N, 72° 58' 59.4" W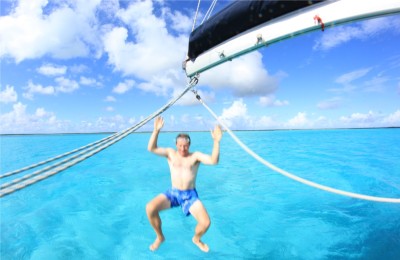 Dropped the hook about noon today, in Abrahams's Bay off Mayaguana - an unbelievably undeveloped place for an official port of entry to the Bahamas - very beatiiful. Logged just over 800 nm from Charleston, SC and it was a hard slog, essentially sailing close hauled ever since we came out of the main axis of the Gulf Stream last Saturday. Everything is solidly salt coated from constant spray and waves over bow - so we hope for some rain squalls tonight to clean things up. We're officially in the tropics now (22°22' North) and the water temperature has positively improved since Maine... Ready to catch up on some sleep now... we hope to continue towards Jamaica next Tue/Wed - weather permitting - stay tuned...