(Almost) Ready for Departure
Posted by

Namani

on

Wednesday, 14 November 2007
28° 55' 0" N, 13° 42' 8.4" W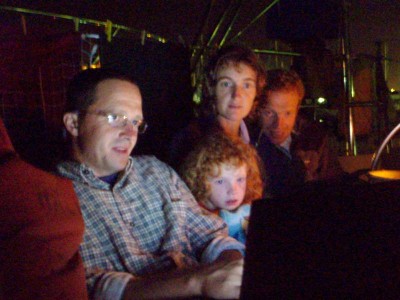 We are now planning on departing Lanzarote on Friday and since things might be quite busy tomorrow (Thursday) we thought we'd rather put in our "farewell post" from the Old World today. Peter will arrive tomorrow to join us for Atlantic leg and we're looking forward to seeing him again aboard Namani.
The picture above shows us tonight aboard Namani discussing the latest weather data and forecasts with the crew of Sea Bright who will also shoot for a Friday departure. Based on current forecasts reaching the tradewind belt just north of the Cape Verde Islands might be require some patience as some low pressure systems NW of here play havoc with the NE winds typical for this region. So in our case the best strategy may indeed be "going south until the butter melts and then turning right"...
We hope we will be able to post text updates again from underway. Otherwise you'll here from us once we reach Antigua, hopefully sometime around December 10 - stay tuned...
BTW - Special thanks to everyone who is posting comments to our updates here. We very much enjoy reading those and knowing that our entries are actually being read!