Agean Update
Posted by

Namani

on

Saturday, 11 August 2007
37° 8' 36" N, 24° 30' 54" E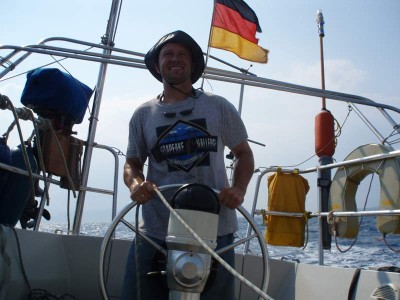 As promised from Aigina a more detailed update about our travels since Patras - this time from Livadi on Serifos in the Southwestern Aegean.
Against expectations we very much enjoyed Patras where we were for two days in a small marina with nice neighbors, enjoying the luxury of power and water access right at the pier. Catherine and Chris, friends from the US, joined us there and we set off for the Gulf of Corinth. After passing under the Rios Bridge we had a speedy sail on a broad reach (6+ knots under a tiny bit of genoa) into Trizonia, a little island on the northern side of the gulf. From there we continued east-ward the next day with little wind but a rolly sea left over form the day before. The wind picked up later - unfortunately right on the nose so that we had a slow tacking marathon towards our destination. Orginally, we had planned to go into Galaxidhi but the town quay there was under construction so we continued north Itea. By the time we got there the sun was almost setting and what had looked like a short hop in the morning had actually turned into a long day. We decided to stay an extra day in Itea and to take advantage of its proximity to Delphi where we visited the site of the famous oracle. The second morning in Itea Catherine and Chris took the bus to Athens and we set off for Corinth - unfortunately without any wind so it ended up being a long motoring day. At least we got to troll our newly acquired fishing lines (no success yet, though). In Corinth we just stayed for one night and then went trough the Corinth Channel which was quite an impressive sight (see pictures in the photo gallery). Having reached the eastern exit of the Canal we had about 25 nm to go to Aigina, our next destination in the Saronic Gulf. With a force 6 wind right on the nose and pretty steep seas this turned out to be a very wet roller coaster ride, with constant water over bow, drenching the helmsman (luckily all under sunny skies). Nicky wasn't much impressed by all this and just continued playing with his Lego down below.
In Aigina it took us a while to actually find a free spot and after many rounds around the harbor we tied up next to a fishing boat. To our surprise we then found out that the bilge was full of water to just below the floor boards and that the electrical bilge pump had stopped working. The hand pump worked well though and we were able to get the water out and to ascertain that no new water was coning in. Some further investigation revealed that the draining holes from our anchor locker were clogged (one with mud, probably from Argostoli, the other with a short piece of rope of unknown origin). Hence, all the water we had taken over bow during day eventually ended up in the bilge, thoroughly flooding our canned supplies. So the next day was pretty much a clean-up and repair day in Aigina. Aigina was very different from the other ports we had seen so far. Its proximity to Athens makes it a popular destination for the urban folks with constant ferry traffic and a lot of bustling and hustling in the town. For a contrast we then went on to Kithnos where we anchored of a beautiful little sand beach and spent two relaxing days with lots of swimming for Nicky.
Our latest leg brought us into Livadi which is a little port on Serifos below Hora, one of these picture-perfect Greek little white villages on a hill where we took a bus trip last night. Today we plan to continue to Sifnos - update to follow, stay tuned...