Grenada and the Grenadines
Posted by

Namani

on

Sunday, 24 February 2008
16° 58' 60" N, 61° 42' 54" W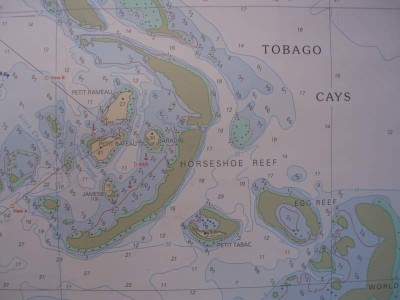 We have had a lovely month of cruising the Grenadines and Grenada with Laura on board, exactly the kind of island-hop cruising I hoped to do in the Caribbean. Heading south was a dream with the winds aft of the beam (mostly from behind); we only had to unroll the genoa and we were off. Going with the wind and waves, you barely feel the force of either (going the other way, as we have discovered since, is the opposite!). We arrived at Prickly Bay after a longish day south and there not only reached Grenada, but also the southernmost point of our trip - 11°59.59 North. Grenada, with its friendly people and laid back atmosphere, is one of our favorite places so far. There are absolutely no hassles and so many beautiful things to see, and kind locals willing to tell us all about their island. We rented a car for 2 days and circled all of Grenada. In the mountains, we hiked to two waterfalls where the pool formed by the 15 meter upper falls drops right into the 10 meter second fall directly under it. We spent time on the beach as well, and Nicky, on his own initiative, tried swimming without his swim wings with some success. A landmark for him.
We visited an old plantation which is now a cocoa processing station and learned just how much labor it takes to turn a cocoa bean into chocolate (and how little time it takes to eat the end product up!). On the cliffy northern end of the island we visited Carib's Leap and saw petroglyphs left behind by the first inhabitants of the island. Actually, we arrived at each of these two sites after closing hours, but at each, the caretakers immediately let us in anyway, unlocking the gates they had just locked up. This is one of the things that made us love and enjoy Grenada so much - the kind and open people. They seem to take a very endearing pride in their small country (very similar to Dominica) and the resulting "laid back enthusiasm" is very contagious.
The fishing village of Gouyave hosts a "Fish Friday" in which the catch is cooked up and sold from tent stalls along the streets - yellowfin tuna, marlin, shrimp, you name it! We had a feast, and loved the laid back atmosphere which drew tourists and locals alike. After 4 nights snug in Prickly Bay, we moved over to St Georges and enjoyed walking through the sleepy Sunday town. There is a fort over the town and old colonial warehouses along the quay. In St Georges as all over the island, we saw many roofless and abandoned houses, a reminder of Hurricane Ivan which devastated the island in 2004. Many people told us about their hurricane experiences - huddling against the walls of their house for hours in the rain and wind after the roof had blown off, or coming home after the storm to find everything gone. It is amazing that Grenada has recovered so quickly in so many ways but there is still much to be rebuilt and recovered.
We were sad to leave lovely Grenada and sadder still to fight the wind on the way back north to Carriacou. We did manage to go aground on a shoal in the bay which caused a momentary panic (and long lasting high heart rate) until we got off fairly easily just by motoring off. Oops. Our 2 night stay in Carriacou was far too short to properly enjoy the hilly, laid back island. We met an enterprising local woman there who runs her own fruit stand extraordinaire. The only thing she didn't have was guavas, so she sent a nearby man off packing with a plastic bag to fill for us. "And hurry up!" she shouted after him. He came back with a bag full of guavas he had just picked off his tree! The fruit lady also makes a calaloo soup which she packs for cruisers to take with them and we enjoyed her vegetarian concoction that night. We have met many enterprising and hard working people throughout the Caribbean islands, but again we were impressed by a woman who runs her own business, stringing together a variety of products and services to make her living, with a smile and a deal for the passing visitor.
On the way south we had already enjoyed 2 nights in the Tobago Cays and now we stopped there for another 3. The Tobago Cays are stunning, beautiful, gorgeous, amazing, fantastic, fascinating, a paradise - you get the picture. During our first stop at this reef-ringed anchorage (and protected marine park), we searched in vain for sea turtles, but this time, they were popping up all around our boat! Then Laura spotted sting rays gliding past through the clear water. So we jumped in and swam with both. Nicky has gotten quite good at snorkeling and he was also able to watch a sting ray swim underneath him. What an experience for us all! We also hired a fisherman to take us to Petit Tabac, a little Robinson Crusoe like island beyond the first reef where ours were the first footprints and we had the island to ourselves for a few hours. Our solar panel and wind generator were producing enough power for the ultimate luxury - refrigeration for a few hours each night, enough for cold drinks to top off a beautiful day in the Cays.
It was hard to leave the Tobago Cays and head out into force 6 winds I would usually avoid, but our best buddies from Sea Bright were waiting for us in Bequia, so that drew us onward. We had a great reunion with Jo, Dave, and Beth, but are sad that we will soon part ways for good as they are heading to the Pacific (yes, we were very tempted to follow, but decided that will have to wait). As always, there are many repair jobs that have to be completed so we will be in Bequia for several days now, dividing time between fun with Sea Bright and fixing sails, the toilet pump (Markus gets that one), anchor light, etc, etc.