Taveuni Time Travelin'
Posted by

Nicky

on

Friday, 2 August 2013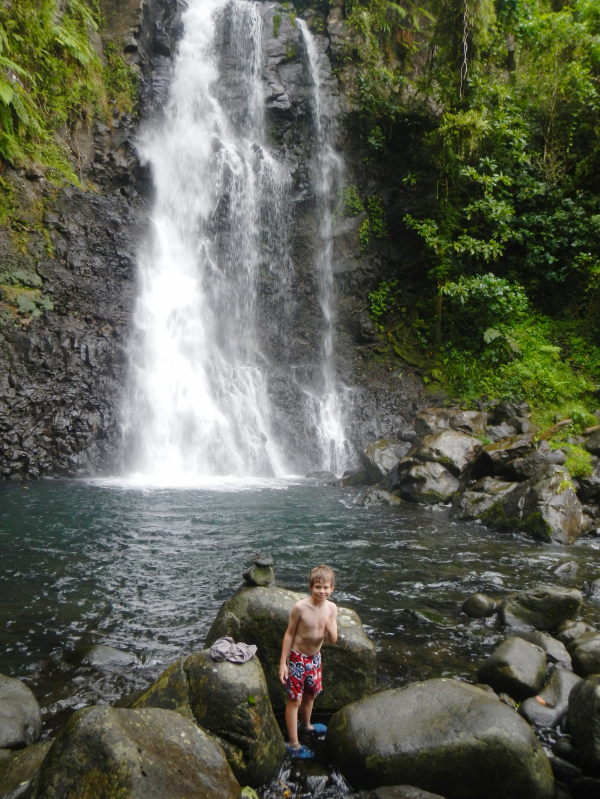 Below you will find Nicky's report about our recent visit to the island of Taveuni in the north-east of Fiji. As an experiment, after he was done with the report, he highlighted the most descriptive words and deleted everything else. Then he edited what was left into this cool poem:
Taveuni, Paradise!

Nice, cool, exotic, isolated
Skyscraping, rainforest-cloaked isle
Peepers peeled for frogs'n'lizards, rainbow birds
Travel through time!

Dunk in blasting waterfalls
Zippie-dee-doodle down swirling water
Squirting down a smooth channel at Mach-1
Bruise your soft bum
FFFUUUUUUUNNN!!!
Here's Nicky's full report:
Taveuni Time Travelin'
Imagine a paradise where there are so many things to do, you don't know what to start with! In this place you can travel through time, go zippie-dee-doodle down a smooth chute of swirling water or take a dunk in blasting waterfalls. This place is called Taveuni and it's close to Viani Bay in Fiji. This green, skyscraping, rainforest-cloaked island has many activities (and a great way to bruise your soft bum!).
Entertainment
The best way to spend your time in Taveuni is to go to the natural waterslide. It's a river that's nice, cool, exotic, and isolated from human contact with the ability to send you squirting down a smooth channel at Mach-1. We didn't slide from the very top (the slide is has lots of sections), but a couple of hundred meters up is good enough, and you don't want to bruise your Glutimus Maximus too much, do you?
If you get bored of zipping down that slide, you can always go to one or more of the three water-falls on the other side of the island. Although they've got a lot of current blasting out of their falls and are quite chilly, they're FFFUUUUUUUNNN!!! We swam in the two lower falls (I'm not a hiking fan) but this is still my recommendation. The "Water-Fall Times-Tables" are:
| Waterfall | Hiking Time | Recommended (yes or no)? |
| --- | --- | --- |
| #1 | 10 min | yes |
| #2 | 30 min | yes |
| #3 | 60 min | no |
Keep your peepers peeled for any frogs or lizards on these hikes, and if you are quiet as a little mouse, you might even spot some exotic birds!
Now comes the real stuff: you can travel through time! Well, OK, you can't go five minutes back to re-enjoy those delicious cookies you had, but you can still go two days into the "future" or two days into the "past"! You just have to go to the official Date Line, the one that's 180 degrees from Greenwich, London (the line is just up the hill in Somosomo). Technically, a calendar date on the east side of the Date Line should be different than a calendar date on the west side, but modern Fiji cheated a bit for practical purposes and "moved" the Date Line so the country is all in one time zone.
Resources
As for practicalities, anchoring is manageable but bombie-infested with lots of current. And It's also rather rolly sometimes but it's usually fine to dinghy and provisionon on land. You can buy fuel at a station close to the Date Line and food at the market or MH (a reasonably big supermarket). Transportation is also good. It's not hard to find a taxi and most roads are easy to drive on (at least the main road was paved and the small ones were hard-packed dirt). Walking isn't so practical because Taveuni is a big island with very widely spread sights.
Conditions
There aren't many houses on the island because of all those green plants (around 60% of the island is rainforest) but roads are still fine to drive on (see above). There's sparkling clean water and a pebbly beach to swim off. The weather on the island is typically quite damp but not extreme. For example, during one of the hikes, we endured patchy showers (well, it wasn't very much!).
Conclusion
All in all, I really liked Taveuni and loved the water-slide (though I had a bruise on my bum for many days after). It's a good place to hang out and provision, too. Hope you go there!