The Pleiades: A Look Into Maori Art and Culture
Posted by

Nicky

on

Monday, 28 January 2013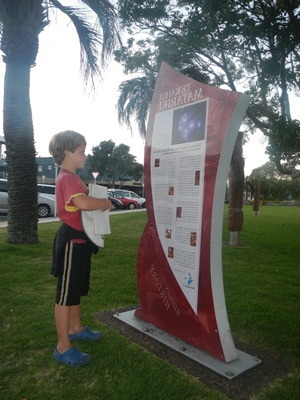 Some cultures, like the Maori, had interesting beliefs about stars. They saw people, gods, and animals in clusters of stars billions of miles away. Here is some research I did on seven statues of the Pleiades in a park in Tauranga, New Zealand. The seven carvings are called Te Kahui Matariki and were made by James Tapatia.
When the Maori first saw the Pleiades, it would show the start of the New Year and what weather it would bring: if the stars were clear, the year would be very nice; if they were hazy, it meant the opposite. The seven statues represent stars and are lined up in a wave. I chose three of the seven to explain about.
At the first statue, Tahuri Matariki, I at first did not spot the Lizard (representing Maui's trip), Orion (shown by three shells), and Tiheru (another constellation, the Bailer, shown by three shells). I only recognized them because there was a sign that told their story. Tahuri is wearing a dogskin cloak to show his status. Like the others, it is made of wood inlaid with shells.
The second statue, Tupu Anupu, represents the four winds and seasons. You can see that because the statue has four swirly manaias (a snake-like shape). The manaias stick out, producing a distorted shape. I chose it because it was curvy.
The sixth figure, Waipuna A Rangi, represents the water signaling the start of the New Year when the Matariki (Pleiadies) appear. It vaguely looks like a wave because of its swirliness, but I couldn't have guessed. At the top there are three manaia, representing the three Maori tribes. I chose it because I like water. Like Tupu Anupu, it is made of wood.
The statues I have done some work on are my "top three" favorites of seven statues we found. They are an example of how the Maori expressed their beliefs of gods and stars.
                   vvvvvvvvvvv
                  [  o     o  ]
                  [     ^     ]
                  [ \_______/ ]
                  [           ]
                    111111111
        +=========1           1===========+
                  1           1
                  1           1
                  1           1
                  1           1
                  1           1
                   11111111111
                  1   1  1   1
                  1   1  1   1
                  1   1  1   1
                  1_ 1   1_ 1
              __1   1     1   1__
             1____1         1____1