Dots, Stripes, Swirls: I Paint Like the Post-Impressionists
Posted by

Nicky

on

Friday, 20 July 2012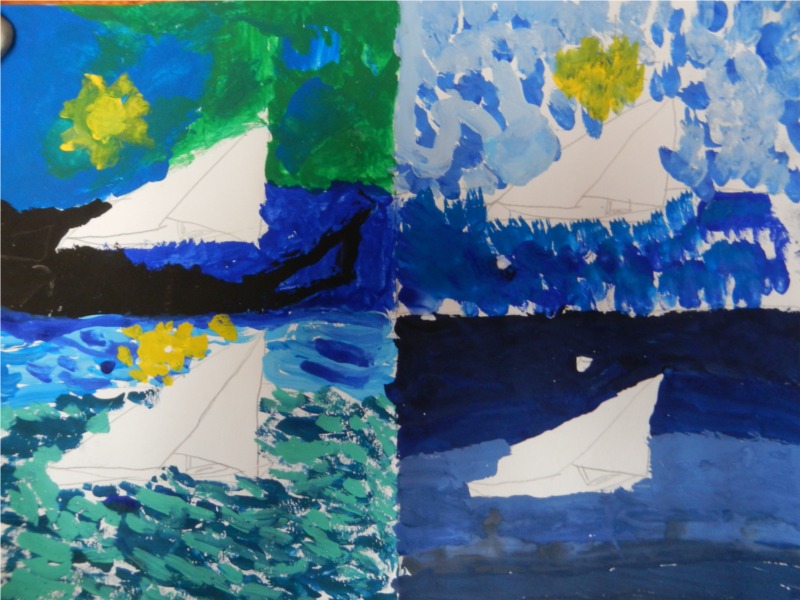 In this art assignment, I painted a boat sailing in the style of Gauguin, Seurat, Van Gogh, and Rousseau, the Post-Impressionists. They worked after the Impressionists. The Post-Impressionists painted in a blurry but interesting way. Because we are in French Polynesia, we mainly focused on Gauguin, who lived and painted in Tahiti and Hiva Oa for some time.
Gauguin (1848-1903) painted very simply with strange colors and his brushstrokes went mainly up and down like Arearea,one of his famous paintings. We also got to see his houses in 2 different places, because he lived on both Tahiti and Hiva Oa. Seurat (1851-1891) painted with thousands of dots of colors such as Port en Bessin, a scene of a harbour. Van Gogh (1853-1890) painted many different colors in dots and dashes. His dashes were often swirly, for example, Starry Night. Rosseau (1844-1910) painted with long, continous brushstrokes and very defined lines of color. His paintings were very simple and often dreamy, for instance, The Sleeping Gypsy.
Painting was fun because I could see how differently the post impressionists painted from each other. I most enjoyed painting like Rousseau because his style is simple. Seurat was harder to paint because there are so many dots.
Top left: in the style of Gauguin
Top right: in the style of Seurat
Bottom left: in the style of Van Gogh
Bottom right: in the style of Rousseau