WOW!
Posted by

Namani

on

Saturday, 5 May 2012
Anchored off Fatu Hiva in Baie Hanavave ("Bay of Virgins")
10° 28' 0" S, 138° 40' 0" W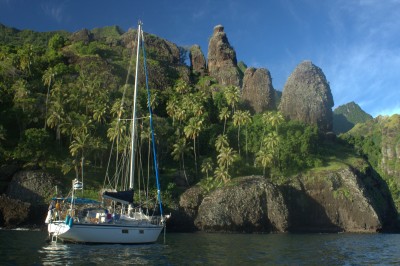 After having spent four days on Hiva Oa we came down to Fatu Hiva on Friday (04MAY). We left at daybreak and motorsailed most of the 44nm through the rain. It did clear up a bit during the last two hours and with the wind shifting as we got close to Fatu Hiva we got some nice sailing on a close reach at last.
The bay here in Fatu Hiva is incredibly beautiful with rocky spires and steep cliffs dropping right into water around us (therefore the "WOW" in the title of this post). Everything is covered by intensely green vegetation and especially in the setting sun it is a stunning sight from the boat at anchor. We hiked up to a 200ft/65m waterfall yesterday, relaxed in the pool at its bottom, and explored the little village of Hanavave along the way. Dinner back on Namani yesterday was quite a treat - watching the full moon rise over the cliffs to the east and enjoying some very nice wine that Jomique had brought from Australia. Today we will visit some local festivities here in Hanavave (including a .soccer tournament where you can win rice, sugar and flour). Tomorrow - hoping that the weather will cooperate - we plan to hike to Omoa, the other village on the island.
We did enjoy our stay on Hiva Oa prior to coming here. We were greeted by Michael and Barbara from Astarté right after dropping bow and stern anchors, and they brought fresh bread, fruit, lettuce and cold beer - what a treat! In Hiva Oa we finally got meet some of the people belonging to the voices on the little radio net we had maintained during the passage. James and Matthew on Rhapsody arrived a day after us, followed by Brian and Susan on Daramy a day later. We had a very nice dinner aboard Daramy, with some deliciously grilled fish which they had caught on the passage. We also met André, Birgit and their three kids on E Capoe, together with their crew Patricia, and exchanged the pictures we had taken of each others' boats 10 days earlier in Mid-Pacific.
We plan to return to Hiva Oa on Tuesday (08MAY) to drop off Jomique for his flight back to Germany (via Tahiti and New Zealand) and then take the rest of the month of May to explore the remainder of the Marquesas. Stay tuned...