Westwards again!
Posted by

Namani

on

Tuesday, 23 July 2013
Anchored off Naingani, off the east coast of Viti Levu
17° 34' 0" S, 178° 40' 60" E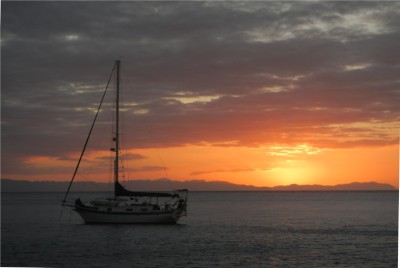 After 6 weeks of zig-zagging up and down the eastern portion of Fiji we left our anchorage in Vanua Mbalava yesterday (Monday, 22JUL) morning to sail the 130+nm to the east side of Viti Levu, the "other" big island in Fiji. After a bumpy but swift overnight sail to windward we dropped our hook off the little island of Naingani, just off the eastern coast of Viti Levu. With a bit of tacking we ended up having just over 150nm on the log, including a few hours of motorsailing at the end, when we got tired of the tacking game. We still feel we already got a life time supply of upwind sailing when beating to windward for 6 straight days and nights from the US East Coast to Mayaguana back in 2011... ;-)
We passed almost within earshot of Victoria this monring who are anchored off Makongai about 20nm NE of Naingani. It was tempting to stop there but after 4+ weeks in the Lau away from what's commonly considered "civilization" we're running low on some basic supplies and need to get to bigger settlement. We thoroughly enjoyed our time in the islands of Fulaga and Vanua Mbalava i the Lau Group. As it turns out we were lucky to be able to visit both as our weather window to go south the Fulaga at the end of June has been the last one of its kind so far and likely at least for another week or so. In Vanua Mbalave we also had a happy reunion with the crews of Caps Tres (Spanish/Argentinian) and Thor (Germany/Austria) before going our separate ways again.
Now we plan to continue to Voli Voli Point on the NE corner of Viti Levu tomorrow. from there we should be able to get transport to Raki Raki where we hope to do some food shopping. We'll also have an internet connection again after four weeks "off the grid"... We still have some time left in Fiji but we need to slowly ge ready to move on to Vanuatu some time in early August. We'll keep you posted...