Welcome to Gloucester!
Posted by

Namani

on

Thursday, 15 September 2011
42° 36' 42" N, 70° 39' 18" W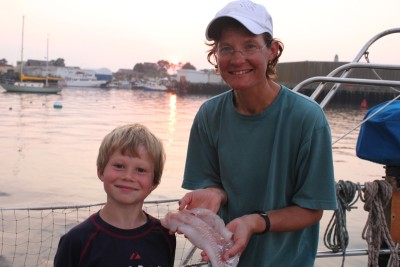 While we had planned to make a long day sail from the Isles of Shoals to Plymouth, NH, we heard an unfamiliar noise from the steering when we were just ready to slip our mooring at 6 am this morning. After some diving and disassembly it turned out to be nothing but by then it was too late to make Plymouth before nightfall (and we weren't keen on navigating the narrow and shoal entry channel at night time). Hence we opted for Glouvester, MA as an intermediate stop. What a nice surprise it was! Firstly, it allowed us a nice leisurely sail, tacking close hauled across flat seas (rather than motoring straight into the headwind to make it to Plymouth). Secondly, the city of Gloucester has been a very nice suprise. For starters, when we tied up at a fuel dock just after arriving, John, the captain of a local fishing tour boat, walks up to Nana, puts a big chunk of freshly caught cod filet in her hand and grins "welcome to Gloucester" at her (he had passed us on the way into the harbor and seen the German flag on our backstay). The town itself has much to offer and we had a very nice dinner with our friends Bibi and Ralf who came up from Lexington for a short visit.
We will wait for a cold front to pass, fix a leaking porthole and then make our way through the Cape Cod Canal on Saturday.