Waiting for the low to pass (and a new report by Nicky)
Posted by

Namani

on

Monday, 5 November 2012
Moored in Nuku'alofa Harbour, Tongatapu, Tonga
21° 7' 60" S, 175° 10' 60" W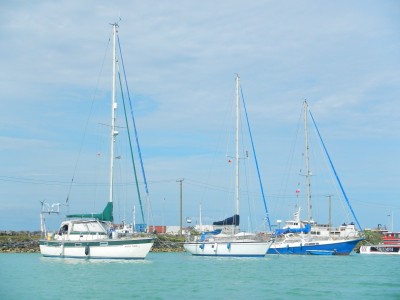 A previous post ("At the starting line") made it sound as if our departure to NZ was imminent, but not so... The tropical low mentioned in that post did solidify in the forecasts (it first only showed up in the longer term computer models) and is now expected to pass to the south of us here in southern Tonga during Wednesday. Expected wind strength have gone down in recent forecasts but we have nevertheless moved into the harbour this morning (in a concerted effort with Victoria and Anni Nad) because the anchorage outside is open to N...NW...W. With gusty winds expected to move through that quadrant during Wednesday night and a 7nm fetch to the NW we didn't want to chance a very pichy and rolly anchorage.
There has been much discussion among boats over the past few days whether and when to leave with that low popping up in the long-term forecast models. Many boats left over the last weekend, hoping to stay south of the low on the way to Minerva/NZ. Others have called off a Saturday departure at the last minute and joined us in the anchorage here instead. As the projected track of the low has flip-flopped between successive forecast model runs, some boats that did leave have actually turned back when the models indicated a track right across their route (and some of those boats have then turned around again when the next forecast run changed to a more favorable track). Luckily for all it now looks that the system will move off to the SE quickly, causing no more than an uncomfortable 24 hours to those underway.
We now have our eyes on next Sunday (11NOV) as a possible departure date. It would create a nice symmetrie as we had left the US Coast fro the tropics on 11NOV last year... All is well aboard, stay tuned...