Tonga, week 1
Posted by

Namani

on

Thursday, 11 October 2012
anchored off Mala Island, Vava'u Group, Tonga
18° 43' 4.8" S, 173° 59' 29.4" W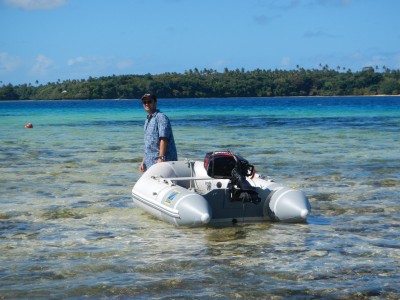 A week in Tonga's Vava'u Group with four different anchorages and total distance between them of less than 20nm... a nice crusing ground. Had a "brisk" little sail today, from our "old" anchorage at Port Maurelle to Tapana Island, about 10nm to the East. The weather has settled nicely, so we had fun tacking upwind on flat seas under sunny skies. Had a drive-by meeting with Astarte along the way. We hove to in front of their anchorage and Michael came out in the dinghy, so we could trade our old 110V-220V transformer (no longer needed by us) for lentils, dired cranberries and other food-stuffs. We're now anchored south of Tapana Island with two other boats and plan to pay a visit to the local school here tomorrow morning. When dropping off some papayas at our neighbors this afternoon the folks on an Italian ketch gave us a giant mussel in return which made for an interesting and tasty cooking experience tonight.
Ever since we left Raitea, Namani had been shining with polished topsides and new bottom paint. That shine got a bit of a dent when we scraped our starboard sige against the rusty seel wall during our night at the customs dock in Neiafu (tide and swell had worked two fenders out and the dock was not really suited for small vessels to begin with... We repaired most of that damage over the past two days at anchor. No more tiyng up to shady docks for us any time soon.... Other than that we enjoyed spending time and catching up with Katydid, Adventure Bound, Leysin, and Victoria.
All is well aboard, stay tuned ...