Taveuni
Posted by

Namani

on

Wednesday, 26 June 2013
Anchored off the NW end of Taveuni
16° 41' 36" S, 179° 53' 42" W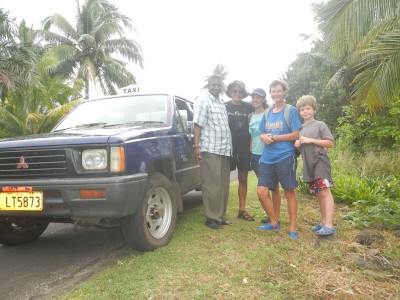 We left Viani Bay on Tuesday and moved to the NW end of Taveuni, the "Garden of Fiji". Together with Virginia and Jose from Caps Tres we hired a taxi yesterday and Harry, the driver, gave us a very nice tour of the island. We hiked up to and swam under some waterfalls in tropical rainforest (which did live up to its reputation) and later had great fun zipping down a natural waterslide which Nicky couldn't get enough of. If you ever find yourself on Taveuni and are interested in a full day tour of the island: Harry's phone number is +679-8461 465.
We also topped up our provisions here before we will leave to the Lau Group later this afternoon. A passing front will "suspend" the SE tradewinds for a 24-36 hour period, giving us a chance to sail the 180nm SE to Fulanga in the southern Lau - so we hope ;-)
Prior to coming here we had a great time at Viani Bay with a fantastic day of diving ("Purple Wall" and "Gerry's Jelly") and an exciting snorkeling outing with Jack Fisher. We also said good-bye to Helena and Kari on Merilelu. They have already been to the Lau and are now moving on to make it to Thailand by the end of the season. Safe travels - we'll miss you!
PS: The longitude position for this post is not a typo - we are back in western longitudes - if just barely so.... The 180th meridian runs through Taveuni and given to island's NE to SW orientation, we're just dipping into the 179's W at our anchorage.