Strait of Messina and Ionian Crossing
Posted by

Namani

on

Thursday, 26 July 2007
Cephallonia, Ionian Sea, Greece
39° 55' 48" N, 9° 41' 36" E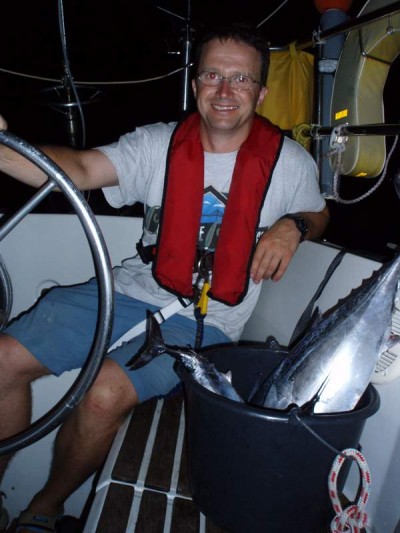 The Aeolian islands were a real highlight, especially our beautiful anchorage on the west side of Volcano and our hike up to the crater rim. We left the Aeolian islands at 3AM on our third night at Volcano in order to make the favorable tide at the Strait of Messina, about 45 miles away. In fact we arrived near the opening of the Strait early and had a few hours anchored off Sicily to wait for the tide to turn (this way we were able to go with the strong current rather than against it).
We had read a lot about the Strait of Messina and were cautious about the currents, whirlpools, and eddies that it is known for. In fact, at the head of the Strait we could see a rough rippled area, almost a starting line where the Tyrennian Sea meets the Ionian. However, everything went smoothly and a bigger concern was the huge number of ferries crossing the Strait that we had to find our way around. In the end we found an opening and crossed without any problem. Unfortunately our short stay in Reggio di Calabria was disappointing, with an unappealing harbor area and little time for seeing the town after dealing with repairs and provisioning.
We left Reggio on a Sunday evening and soon were tangled up - almost literally - in a series of difficulties. First, we left the harbor and set sail without realizing that due to an air show - seven fighter planes performing spectacular stunts and formations - part of the Strait was closed to boat traffic and so we had to hurry the hell out of the stunt area into clear water. Nicky loved the show but my heart was pounding from the low fly-overs they had executed. Then the winds and seas built very quickly because everything is funneled through the narrow Strait between the high land masses of Sicily and mainland Italy, to an uncomfortable point that we were a bit unprepared for. To complicate that, the reefing lines jammed (to make your sail smaller in big winds) though Markus quickly found a solution and got the boat well under control again.
No sooner had he accomplished that, than the winds died right down; we were out of the narrow Strait and rounding the boot of Italy to head east to Greece. So we ended up motoring through the first part of the night. That is until about 2AM when Markus woke me form his watch with the news that we were tangled in a fishing net. We pulled and hooked and cut at the net but weren't getting loose. Meanwhile another boat was approaching. It turned out that boat was the fishing boat and they began to reel in their net. I had visions of a midnight encounter with angry Italian fishermen but that was not the case in the end. They came up slowly until they were right alongside and quickly managed to free us with no hot tempers or wild gesticulations. I could picture them bragging to their fishing buddies at home: we caught one THIS big! They didn't let us go, though, until they had given us three huge tuna out of their catch (they were ready to give us more but we politely declined). So it turned out to be a positive encounter instead of a nightmare - but next time we will catch our fish the normal way, I hope! By the next morning we were out of sight of Italy, in international waters, savoring a delicious tuna meal and our memories of Bella Italia!
We counted on two and a half days for crossing the Ionian (250 nautical miles) and have done well so far with a little motoring and a log stretch of good winds with very calm seas. No dolphins yet and also not as much boat traffic as I expected so it has been a quiet crossing. We do the days in 4 hour watches and the nights in 3 hour chunks (so one of us is always on deck and on duty in turn). We are looking forward to exploring Greek waters with Cephallonia and Ithaka first on our list.