Spass am Spi-Baum and the "Tour de Maupiti"
Posted by

Namani

on

Thursday, 23 August 2012
16° 26' 42.6" S, 152° 14' 38.4" W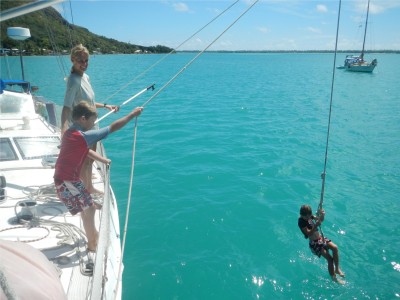 A quick hello from Maupiti, our last stop in French Polynesia before heading off for Suwarrow. We arrived here yesterday (Wed) at lunchtime from Bora Bora and found Victoria and Aspasia in the anchorage. Beautiful scenery and a very relaxed atmosphere (essentially no touristic Victoria + Nicky) had fun swinging first from Aspasia's spinaker pole and then doing the same on Victoria (see picture above).
In the afternoon Victoria lent us their bikes (including an original MiFa folding bike, back from the GDR days) an we did a loop around the island (all of its 10km circumference...). A lot of fun to ride a bike again and some really beautiful views. Finished the day with a little get together on Namani which we thoroughly enjoyed.
We're planning leave here on Saturday after hiking up on the island's peak tomorrow (Fri) and some snorkeling on Saturday morning. But who knows... Panta Rhei - "things change" ... we may find ourselves spending another few days here. It's awfully nice and we have some days left before our self-imposed deadline of leaving French Polynesia by the end of the month arrives. Stay tuned...