Scuba day
Posted by

Namani

on

Saturday, 8 September 2012
Anchored off Anchor Island, Suwarrow, Cook Islands
13° 14' 53.4" S, 163° 6' 27.6" W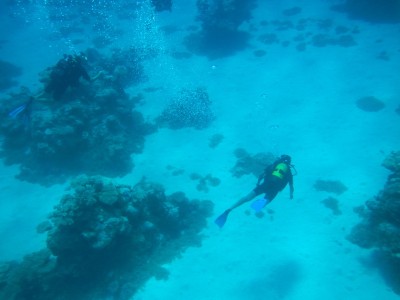 Went for a day of diving today with Anthony ("Ants", the Assistant Park Ranger), Helena and Kari from Merilelu, Iris and Alex from Aleris, and the crew of Gypsy Blues (who went in their own dinghy). First stop was "Avatar Reef" at the southern end of the atoll (named so by us because diving there feels like flying through the 3D-scapes in the movie Avatar). We had snorkeled there before but scuba diving there was simply wonderful. Until quite recently we've always said that the equipment hassle of scuba diving is not worth it, considering what you can see by snorkeling, but we may have to revise that now...
Luckily we had enough air left after that for another dive at the 7 Islands Reef. Same story - had snorkeled there before but the dive was truly special. Lots of fish in addition to healthy and varied coral.
On the way back to the anchorage we caught a big Trevally (our most simple lure continues to be the most effective) and grilled it over an open fore at the beach for dinner (after feeding the sharks on the windward side with the scraps from cleaning the fish). It doesn't get much better...
Nicky stayed with Heike, Kai, and their sons Niclas and Hannes on Victoria for the day and they all joined us on the beach this evening. Tomorrow we'll swap and take Hannes and Niclas, while their parents will go diving.
Based on the current weather forecast we expect to leave here on Saturday when the next troff has moved through and the wind turns back to the east. Stay tuned...