Pines and Birthdays
Posted by

Namani

on

Friday, 27 September 2013
Ile des Pines, New Caledonia
22° 39' 30" S, 167° 26' 18" E
Cruising in New Caledonia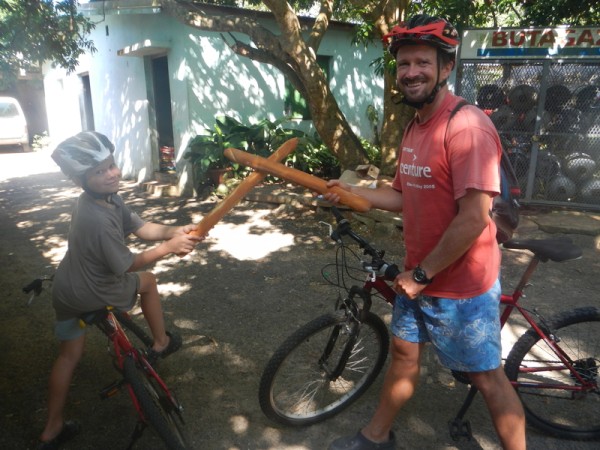 Time for a little update from New Caledonia...be warned: this is going to be one of these "catching up posts", mainly for our own record. Perhaps a bit boring...
During the last night of the passage to here from Vanutau we had some pretty intense lightning storms and for about two hours it felt like we were sailing in intense brightness, interrupted by short flashes of darkness... Luckily, we eventually popped out unscathed from under the clouds and entered the Canal de Havannah on 11SEP around 0830h. Since we were still early for Danny's continuing passage to New Zealand we delayed our arrival at Noumea, New Caledonia's only port of entry, and anchored for two days in Baie du Prony on the south side of the main island.
We did check in on 13SEP and stayed for three days of intense therapy with pain au chocolat, (real) cheese and baguette. We also reconnected with the crews of Topaze and Papillon, before handing Danny over to John and Francis on Quintessence and heading out again to make our way to the Ile des Pins, about 40nm south of the main island. We thoroughly enjoyed having Danny aboard for the passage from Vanuatu and wished him a safe onward journey to New Zealand!
We dropped our anchor in the Baie de Kuto on the Isle of Pins on 20SEP and have enjoyed our time here since then (with the exception of a passing front and a rolly night and day in a SW swell...). We met Carolina, Simon and their daughters Sarah, Emma and Clara on the schooner Kyrimba and Nicky had an early pre-birthday party on Namani when they came over for a potluck on 25SEP. Nicky's luck was complete when during the afternoon of the same day Quintessence pulled into the bay with Danny standing on the bow. He also joined us for the evening and so there was lots of guitar playing and music happening on Namani again.
The next day Danny joined us on a little hike up a local hill before we waved him and John and Francis on Quintessence good-bye for good as they weighed anchor to leave for NZ.
Today, Nicky turned 10 - wow: double digits! We rented bikes on the island and had a very nice ride up and down the coast. After four hours of biking we were also pretty comatose. Unusual exercise for us...

Nicky's birthday wrapping paper
We'll stay here for another few days before heading back towards Noumea where Bafia will join us on 03OCT - very exciting!