Up in Penobscot Bay
Posted by

Namani

on

Wednesday, 7 September 2011
44° 22' 60" N, 68° 48' 0" W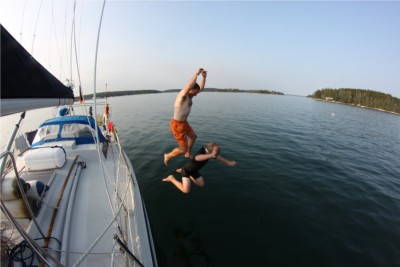 A quick update from Castine where we tied up at the town dock last night. Had a very nice trip up here with stops in Casco Bay's "The Basin", Boothbay Harbor, Long Cove and Pulpit Harbor up in Penobscot Bay.
The Picture above was taken in Long Cove/Penobscot Bay - those knowing Maine's water temperatures will appreciate this as an act of bravery ...
We were sad to have Laura leave last Thursday, but we're confident we can re-connect at some other point along the way. We did have have a very nice surprise when Bob - whom we had met at Yankee Marina before - dropped his anchor next to us in The Basin last Friday night. We had little mini-flotilla to Boothbay Harbor where we able to re-unite with Tracy and James (whom we had first met in Florida in 2008) and also with Fred and Susan, friends from Yankee Marina.
Enjoying Castine now, waiting for swells from Hurricane Katia (which tracks well offshore to our SE) to subside by Friday night.
Pictures and details to follow. Off to visit the "State of Maine" now, the Maine Maritime Academy's training ship.