One year anniversary and mantas again
Posted by

Namani

on

Sunday, 2 September 2012
Anchored off Anchor Island, Suwarrow, Cook Islands
13° 14' 53.4" S, 163° 6' 27.6" W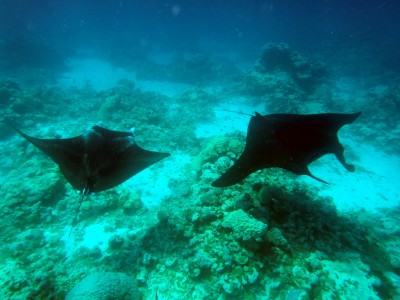 01SEP - exactly one year ago we dropped off our friend Laura at the airport in Portland, ME and started sailing on Namani again in earnest. Nice to celebrate our anniversary here in Suwarrow - in a spot that is probably as far away from "things" as we may ever get in our lifes (other than being on passage somewhere in mid-Pacific).
We caught up on some sleep last night and this morning went to the local "manta snorkel spot". Ever since Tahuata in the Marquesas we've been very spoiled when it comes to swimming with manta rays. Today we just had one very big one with the added bonus of being checked out by two grey reef sharks when we followed the manta into deeper water (there are sharks everywhere in the anchorage, mostly smaller black tips, largely ignoring the few humans in the waters here). The picture above is from Topaze, who saw multiple mantas earlier this week.
After some school and lunch we where lucky to get a dinghy ride with Topaze and Sambe to a fantastic snorkel spot at the southern reef, about 3nm from the anchorage. An incredible underwater coral landscape.
Now we slowly have to start to look at weather windows for a passage to Niue (about 520nm SW of here). But hopefully, that will still be a few days away. Stay tuned...