Oncoming Traffic
Posted by

Namani

on

Friday, 2 August 2013
16° 56' 30" S, 177° 22' 0" E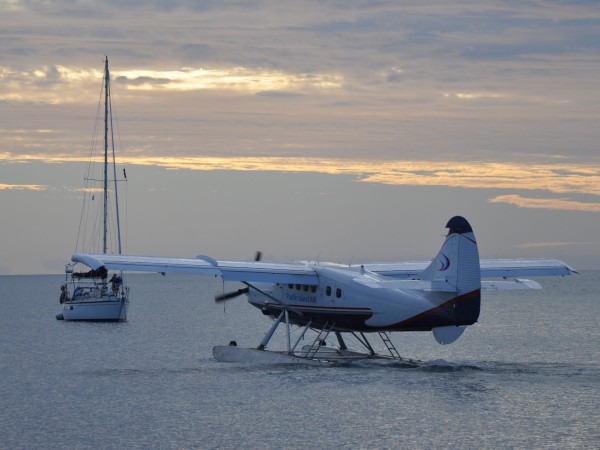 Last Monday (29JUL) the weather was right and we left Volivoli Point on Viti Levu for an overnight sail to the Yasawa Islands, WNW of Viti Levu. We dropped the hook 98nm later off Nanuya Levu - also known as the "Blue Lagoon" for the 1980 movie that was filmed here. We had heard stories of "tourism overload" in this spot but were pleasantly surprised to find a very relaxed atmosphere. There is a small resort on the island, but it comes across as very low key and friendly. Once a week a small (by today's standards) cruise ship ties up to a mooring off the southern end of the island but that's far enough away to not get into each others' way.
There was however this waterplane, heading straight for Namani on its way to the "runway".... Heike from Victoria took the shot above as the plane was "taxiying" before take off.
Otherwise we have very much enjoyed our time here and have been productive on various writing and tinkering projects. The forecast looks good for moving on Monday (05AUG) and we plan to move about 30nm down the Yasawa Island chain for our next stop.