No Scurvy Today!
Posted by

Namani

on

Saturday, 27 July 2013
Anchored off Volivoli Point, Viti Levu
17° 18' 54" S, 178° 10' 18" E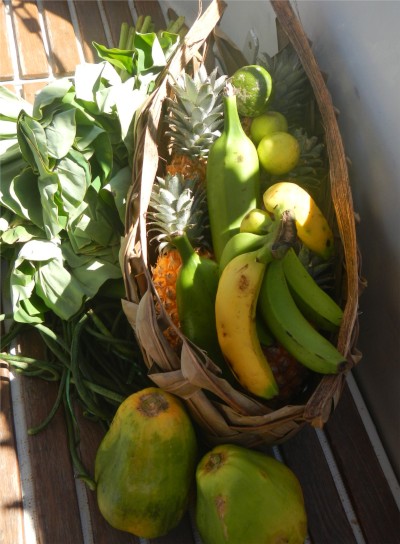 After a month "away from civilization" we were starting to scrape the bottom of the barrel of our supplies - even flour and rice were starting to run low... That state wasn't helped by the fact that over the past week we had three big fish strike the lure we trawled behind Namani only to free themselves just before being hauled aboard (we have now beefed up our lure...).
So yesterday we were very happy to take a taxi from our anchorage at Volivoli Point into Raki Raki, a little about a 15 minunte bumpy ride to the south. Not one but two "super" markets and a very nice fruit and vegetable market had us salivating as we stocked up on basic supplies and goodies, including lots of fresh fruit. No scurvy on Namani! We love the local markets here where every pile of fruit and vegetables seems to be priced at 1 Fiji$ (about 0.60 US$) - sometimes with an additional dollar "tourist surcharge" that we happily paid. It would in fact have felt a bit like robbery to accept 10 small eggplants for 1$...
Yesterday afternoon we then replenished some drinking water from the rainwater tank of a little friendly "backpacker resort" here on Volivoli Point. Always a bit of a project: dinghy 26 one-gallon bottles ashore, lug them to the water tank up the hill, and fill them from the "moderate pressure" tap before schlepping them back to the dinghy and ferrying them back to Namani. Spending summers on Peaks Island seems to be a good preparation for this aspect of cruising... ;-) Of course, not to mention the fact that the majority of the world's population has a much longer and potentially perilous trip to get drinking water of much lesser quality every day..
Before coming here to Volivoli Point we spent a night off the island of Nananu-i-Ra a few miles east of here. After a month in the Lau Group where the remote island villages are largely self sufficient - bar the supply boat that may or may not arrive every 1-2 months - it felt a bit strange to see an island here where every piece of food and equipment has to be ferried in from Viti Levu every day (largely to supply a few small backpacker style resorts). Anchoring depths of 18m were another thing we need to get used to again...
With fresh supplies and tanks refilled, we 're now ready to sail over to the Yasawa island chain, an overnight sail away to the NW. Originally we had planned to leave this afternoon but the weather looks more favorable tomorrow. Meanwhile we were re-united with the crew of Victoria who pulled up next to us in the anchorage yesterday afternoon - happy faces all around ;-)