A nice overnight sail
Posted by

Namani

on

Thursday, 2 August 2012
16° 58' 38.4" S, 151° 24' 1.2" W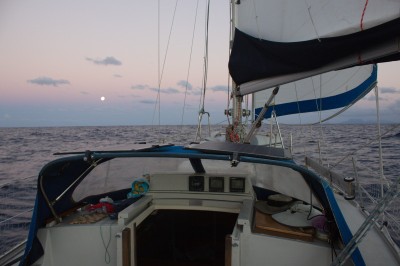 We're just approaching Raiatea, our next stop in the Society Islands in French Polynesia, sailing nicely on a beam reach about 5nm from the island's SW corner (11:30 local time / 21:30 utc). We have a haul-out booked here over the weekend to re-paint Namani's bottom and take care of a small repair at the bottom of the keel (damage that resulted from scraping Maine's rocky bottom all the way back in August of 2011).
We enjoyed three beautiful days in Moorea, with very nice snorkeling and a hike up the hills during which we got thoroughly drenched. No problems hitching rides to the hike's starting point on the way there when we were still dry , but no takers for three soggy creatures on the way back ;-)
We were also happy to re-connect with Helena and Kari on Merilelu who had already spent a few days in the anchorage. In addition to allowing us to catch up it also gave us the opportunity to complete Markus' open water diving certificate (started in Toau six weeks ago) and Nana to do a refresher on a certificate she got many moons ago. Nicky did a "Bubblemaker" course during which he did two dives with all the gear and bells and whistles (very exciting an cute - some video footage to follow once we have internet connectivity again). Helena is a certified PADI instructor and she and Kari run an "opportunistic dive school" off their 40+ ft Dehler with all the equipment aboard. Great for us - we got to take diving lessons in some of the best dive spots with friends from the boat next door ;-)
We were happy to leave the anchorage though yesterday afternoon as it was getting crowded with the wind gusting at 30kn - a recipe for a restless night at anchor... we enjoyed a nice overnight sail and hope to catch Merilelu again in Huahine, once we're back in the water. Now we our keep fingers crossed that we really can restrict the haul-out to the weekend. Stay tuned...