New York!
Posted by

Namani

on

Saturday, 24 September 2011
40° 47' 12" N, 73° 59' 4.8" W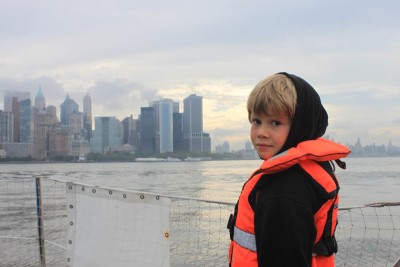 Made it to New York this morning after an overnight motor sail from Block Island through the Long Island Sound. Timing worked out perfectly, catching the start of the flood current at The Race at the eastern end of the Sound yesterday afternoon, then arriving at the Throgs Neck Bridge just before sunrise at 6 am this morning and hitting the start of the ebb current through Hell Gate into the East River just after 8am. Had a beautiful trip down the East River, passing the UN building and under the Brooklyn Bridge, rounding The Battery at the southern tip of Manhattan and sailing out to Liberty Island before turning up into the Hudson. Picked up a mooring at the 79th St Boat Basin at 11 am (30% cheaper than a mooring on Peaks Island, ME!). Now looking forward to reuniting with family and friends in the City!
We also got very lucky with the weather. After motoring through dense fog from Block Island to the Sound and rain throughout the night when traversing the sound, we had a dry sunrise with partly sunny skies just as we passed under the Throgs Neck Bridge. The new radar proved its worth big time through the first portion of the trip in the fog!
Below a picture of Nana and Nicky with the Statue of Liberty in the background and a short video clip of Namani approaching the Brooklyn Bridge.