New photo album and the road ahead
Posted by

Namani

on

Tuesday, 21 August 2012
Moored off Vaitapa, on Bora Bora's west side
16° 30' 0.6" S, 151° 45' 27.6" W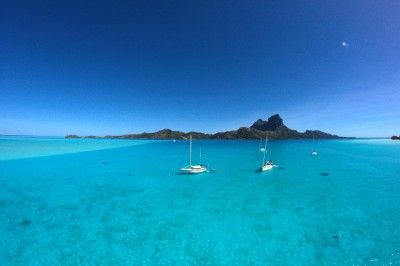 We've put up a new photo album under this link, with pictures from the last month in the Society Islands.
While we're doing the last bits of re-provisioning in Bora Bora we seem to be settling on a plan for the road ahead (rather than changing it every two days, that is). To get to Tonga, the original plan was to go via the Beveridge Reef/Niue on a more southern route. However, with the harbor Raratonga currently closed for dredging (one of the stops along the way on this route) and the weather systems coming off New Zealand tracking a bit further north than "usual" (causing big patches of light and variable wind in a troff between two successive highs), we're now settling on the "northern route", via Suwarrow.
Winds along that route seem to be steadier and a bit stronger, and Suwarrow gets high marks from some boats who have already arrived there. From Suwarrow our ideal path would then lead via Niue to Tonga. However, that will depend on wind and weather at that time because this could turn into a 500nm beat upwind... in which case we would probably head straight for Tonga on a more relaxed wind angle. In any case - we hope to be in Tonga by the end of September/early October. Until then we hope to enjoy the company of the other boats and a stop in Maupiti on the way out of French Polynesia. Stay tuned...