Moving on...
Posted by

Namani

on

Friday, 19 October 2012
moored inside the Hunga Island lagoon Vava'u Group, Tonga
18° 42' 18" S, 174° 7' 57" W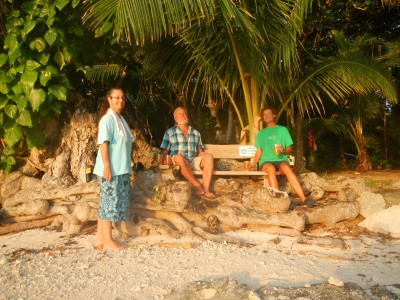 After two days of high-speed re-provisioning in Neiafu (incl. a nice dinner with lots of by now familiar crews) we sailed to Hunga today, where we are now on a mooring inside the lagoon. The mooring belongs to Elke and Werner, a German couple that had retired to this island after 22 years on their 40 ft steel sloop and an extensive track across the world's oceans. They now run the official "Transocean Stuetzpunkt" in Tonga. We had a very nice afternoon and evening at their house here. The plan is now to move south to Tonga's Ha'pai island group over tomorrow (Sat, 20OCT) night and re-unite with Victoria who already sailed tonight. After two fabolously nice weeks in the Vava'u Group some spin-offs of the SPCZ have started to move in over Vava'u with frequent rain showers. We also had a small earthquake here (5.5 on the Richter scale) yesterday morning, centered about 25nm SW from Neiafu. No damage but Nana felt the boat vibrating for a few seconds in the early morning. Markus and Nicky soundly slept through the whole thing. Time to move on...
With respect to the previous post (Nicky's visit to the local school on Mape Island): He very much enjoyed his day at the school. His favorite things where recess and playing soccer (no surprises there ;-). That same afternoon we stopped at Mariner's Cave on the way to Neiafu and Nicky proudly made into the cave and back (he had dive about 1-2m down to the submeged entrance, and then 3-4m aross before resurfacing inside the cave). With the water surging and periodically compressing the trapped air inside the cave there is a cool effect of 2-3 sec of fog followed by 2-3 sec of clear air inside the cave. No news on the cheese epidemic yet - will keep you posted on further developments...