Making Tracks Again
Posted by

Namani

on

Saturday, 29 December 2012
Anchored in Te Kouma Harbour, Hauraki Gulf, New Zealand
36° 49' 0" S, 175° 25' 0" E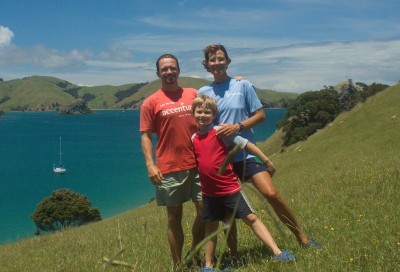 Left Auckland on Friday morning (28DEC) and are now anchored in Te Kouma Harbour, on the west side if the Coromandel peninsula.
There actually is no harbour in sight, just a very beautiful little bay, which apparently is very popular with the local boating community.
When we looked across the Hauraki Gulf yesterday from a little here it seemed that half of the boats in the greater Auckland area were
converging on this spot here. In the end it turned out to be just 15 that stayed overnight.
We're sitting out a rainy and largely windless day today, catching up on some writing. Tomorrow (Mon, 31DEC) we then plan to go around
to the east side of Coromandel (wind is supposed to turn westerly), and then sail to Tauranga from there on Tuesday. All is well aboard,
stay tuned...