The last post from aboard Namani (for now)
Posted by

Namani

on

Sunday, 13 July 2008
Tied up at Yankee Boatyard, Yarmouth, ME
43° 47' 43.2" N, 70° 10' 19.2" W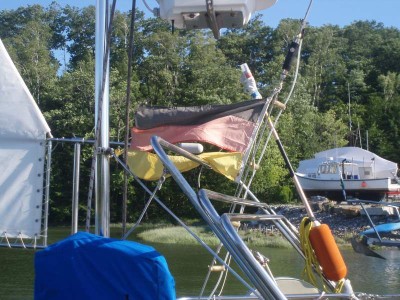 As I will have to disconnect our SSB antenna (read: insulated backstay) tomorrow in preparation for unstepping Namani's mast, this will likely be the last blog post from aboard Namani (at least for this trip - more wrap-up to follow once we're land-locked again). We had nice afternoon sail last Thursday up to Yarmouth on the Royal River where we are now tied up at the Yankee Boatyard (again a very likeable family business). Since Thursday we've been busy getting Namani ready for haul-out and storage on the hard - freshwater washing all sails and about half a mile of lines and running rigging, plus all anchors and chains, cleaning all the nooks and crannies, ...
Despite all the clean-up we're very happy to be "back home" on Namani again, even though it will only be for a few more days. We'll have a sailmaker take measurements tomorrow morning (it's Sunday evening now) for a new suit of sails (main plus #1 and #2 genoa) which we will need before we do any more extensive cruising aboard Namani again. Haul-out will likely be on Tuesday.
Aside from all boat business we've also fallen in love with Yarmouth - a beautiful little town. We've slowly started running again two weeks ago (after a year no aerobic exercise...) - first on Peaks Island and now in Yarmouth - and every time we set out from the boatyard here we find some new little treasure around the town.
Back in Gibraltar, Peter Crouch from "Jenny" had called Namani a "tough little boat" - which is definitely the way we've come to think of her and like her. Provided we can ascertain over the next two weeks that she still is "structurally sound", we will look forward to ready her again for some extended cruising in a "few" years time. Stay tuned...
PS: Picture above shows our well worn German ensign which just made it to Yarmouth before fully disintegrating...