Just around the corner
Posted by

Namani

on

Friday, 5 October 2012
anchored off Mala Island, Vava'u Group, Tonga
18° 41' 17.4" S, 174° 1' 25.2" W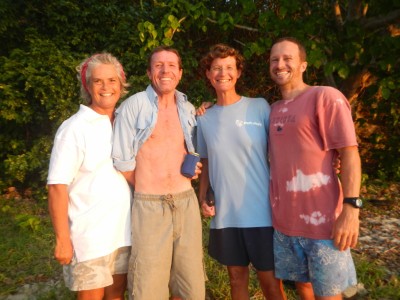 Sailed a whopping 3nm today, to an anchorage just outside the Neiafu bay, and are now anchored off Mala Island (#6 in the canonical Moorings Guide to Tonga), next to Adventure Bound. Had a nice reunion with Marcelle and Bruce from A/B - no more chasing each other on the SSB.
Victoria made it in yesterday morning and Aspasia today. Victoria had a very squally and rainy last night at sea, so we felt lucky to have snug in the day before.
Went to a little weather talk by one of the sailing veterans here in the Aquarium Cafe (we were on one of their moorings in Neiafu last night). It turned out to be a bit of a reunion with quite a few boats we were hoping to catch up with: Robin on Katydid, Karen and Larry on Panta Rhei, Nadine and Christophe from Lacaraba, Iris and Alex from Aleris, Sabina and Dean from Local Talent, ... now we need to reconnect with Astarte who are "a few anchorages further down".
Glad we got out of Neiafu afetr some foodshopping this morning. It's nice to be here at anchor where we can sit out a probably rainy day tomorrow. All is well aboard, stay tuned...