Island Tour
Posted by

Namani

on

Monday, 14 May 2012
9° 49' 0" S, 139° 1' 0" W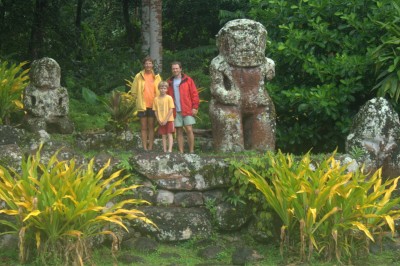 Still in Hiva Oa, sitting out a rainy day before moving on to Tahuatu, a small island just to the south of us. Went on a tour of the island in Marie Jo's pick-up truck, together with Karen, Larry, Katy and Kent from Panta Rhei. A 2-hour drive across Hiva Oa to its NE corner to visit the "Big Tiki", an 18th century religious site with large carved stone figures and altar-like platforms. Looks like the high priests of the time knew how to keep everyone busy.... The drive across the island had us pass by surprising changes in vegetation as we went up and down the mountainous center of the island (including some pine forest that looked more Scandinavian than tropical). The views down the steep cliff-fringed northern shore were quite stunning as well. We're glad we didn't have to drive... Interesting to see a small store at this end of the island. Everything has to be trucked out there on those same winding roads and hairpin turns AFTER it gets to Atuona by boat... After a very nice lunch we drove back to another Tiki-site (the "Smiling Tiki" this time) close to Hiva Oa's airport.
Yesterday was our "social" day then. Roderick and Yvonne on Happy Bird and Robin on Katydid were in town. These are two of the boats we had on our little SSB radio net during the passage and whose crews we had yet to meet in person. So we had them plus Sue and Brian from Daramy over for a late afternoon snack. As these things go, we ate, drank, and talked away the afternoon and evening in no time... Larry and Kent from Panta Rhei had stopped by earlier before setting sail for Nuku Hiva and we hope to catch up with them some time on our way to Tahiti.
Tomorrow we plan on a last dash into town to enjoy fresh baguettes one more time (Robin had even found fresh croissants in one of the stores two days ago...) and then to find ourselves a quite anchorage to catch up on some boat work. Stay tuned...