An island to ourselves
Posted by

Namani

on

Tuesday, 23 October 2012
anchored off Luangahu Island, Ha'pai Group, Tonga
19° 52' 19.8" S, 174° 28' 50.4" W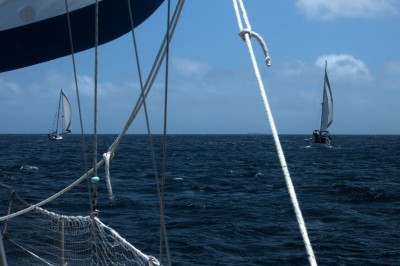 After checking into Tonga's Ha'pai Group at Lifuka yesterday, we checked out again this morning and moved on (together with Victoria) to a little beach and reef fringed island called Luangahu (still in the Ha'pai Group). We tried the eastern side of the island first, hoping the reef would provide enough protection against a fresh E...NE wind but no luck there. So we moved around to the western side which has good holding in 10m and sand. Playtime on the beach for Hannes, Niklas and Nicky later in the afternoon.
An interesting sail today with some uncharted reefs (well visible though in the bright sunlight), a narrow pass through some reefs earlier and some photo shooting with Saltbreaker, who had left Lifuku just behinid us (a boat with two brothers and their friend from San Francisco - we keep crossing paths with them, arguing who follows whom ;-). We also cerated some excitement for Victoria, forcing them to take evasive acton when we got a bit close while taking down our main sail...
We'll likely spend another day here and then look for some place with shelter from the west while a low is forecast to pass to the south of us (on a bit more northerly lattitude than usual). All is well aboard, stay tuned...