ICW, Mile 0...
Posted by

Namani

on

Saturday, 14 June 2008
16° 58' 60" N, 61° 42' 54" W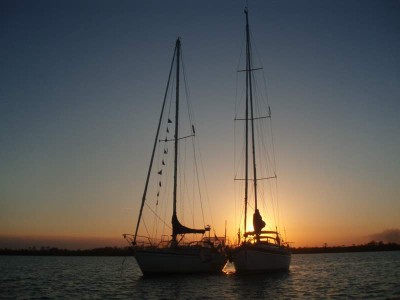 We worked our way up to the end of the ICW (for vessels traveling northbound - I guess officially it's the beginning at mile 0) today and are now moored in Portsmouth, Virginia. Originally, the ICW wasn't very high on our list of things to do but we really enjoyed the little interlude, especially since we got to travel in tandem with Arearea again. We found two very nice anchorages along the way where we could just drop the hook, raft the two boots together, and have the kids traverse freely across - just like the good old days in the Balearics... (see picture above). On our first night out of Belhaven we were also joined by the Australian crew of "Free at Last" who brought 3-year old Jack to the party and made the naval playpen complete. Surprisingly enough we even got to do some nice and relaxed sailing on the open stretches of the ICW where Sven from Arearea took the picture of Namani below.
Now we're getting ready for the last 500 nm up to Maine... currently things look good for a Tuesday or Wednesday departure from the Chesapeake... stay tuned for updates...