The ice is melting...
Posted by

Namani

on

Wednesday, 5 October 2011
38° 58' 24" N, 76° 29' 12" W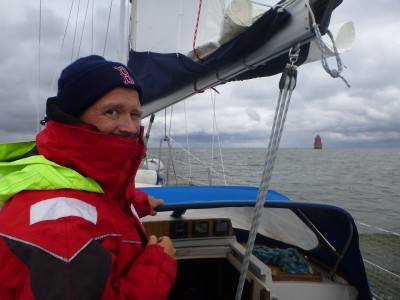 We legged it from Cape May and after a wet, cold and bumpy but fast sail up the Delaware Bay, we went through the Chesapeake-Delaware Channel and - with two over night stops en route - arrived in Annapolis yesterday afternoon. Yesterday started out slow and windless but then the forecasted gusty NW @20kn filled in and we had a beautiful sail for the last stretch to Annapolis. We love it here - tucked away at a town mooring with lots of boats and green lawns around, plus easy accessibility to town and the boat show that will start on Thursday. The even better news is: The "freezing" (5-10°C) temperatures of the last few days (see picture above from sail up the Delaware Bay last Sunday) are over and we're now back in shorts under sunny skies. It got to that critical point where the beer actually got warmer in the bilge than on the shelf because water temperature was significantly higher than air temperature. Alcoholic equilibrium has now been restored...
We plan to stay here until Monday, hopefully with a chance to meet up with Bill, Bonnie and Phoebe over the weekend. Stay tuned...