The home stretch...
Posted by

Namani

on

Sunday, 22 June 2008
25 nm south of Cape Elizabeth - 43-10N 070-11W
37° 41' 6" N, 74° 51' 18" W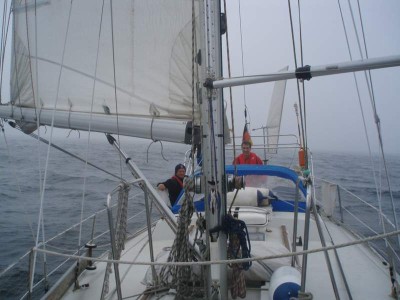 Had a very nice 1-night stayover on Cape Cod with Nana's mother visiting and Ralf, Bibi, Martin and kids joining us on Saturday. Slipped our lines at 1700 yesterday afternoon to make it through the Cape Cod Canal on a favorable tide (Ralf stayed with us, every one else left again). So far it's been a mix of motoring and light wind sailing with fog moving in after midnight which is very slowly dissipating now (1100 local - picture above shows Ralf helming through another foggy patch). Wind is supposed to pick this afternoon ahead of a cold front so we still might get some nice sailing in. We very much hope the fog will have gone by then - sailing past Portland Headlight has always been the image we had in mind for the end of this trip and would be a pity not to see it... stay tuned...
PS: Picture of the crowd (minus Nana's mother who had already left and minus Nicky who couldn't be pulled away from an important Lego project) on Cape Cod