Happy New Year!
Posted by

Namani

on

Sunday, 1 January 2012
Shelter Bay Marina, Panama
9° 22' 6" N, 79° 57' 6" W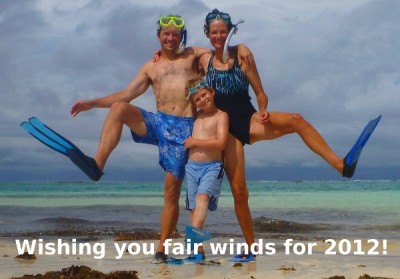 A very happy new year to everyone and fair winds for 2012 - or, as they say in Germany: "Immer eine Hand breit Wasser unter dem Kiel!" (always a hand's width of water beneath the keel).
Have started to work down our job list here in Shelter Bay, with fixing the anchor windlass being high on the priority list. Originally, we had also planned to be hauled out here in Shelter Bay to apply some anti-fouling and fix some scrapes on the bottom of the keel (from our grounding in Maine, just after re-launching Namani). But given that the hull still looks clean and that the keel scrapes were minor, we may postpone that until Tahiti.
Luckily, the swimming pool here at the marina and a French boy on the neighbor dock provide sufficient distraction for Nicky. Very interesting to see the two kids play without a common language between them. While we would like to move on a bit quicker, many of the jobs on our list are much easier with Namani tied to a dock here rather than being anchored on the Pacific side. Another plus is the frequent information exchange with other boats, which is always helpful and interesting. Stay tuned ...
PS: The picture above was taken in the San Blas Isands (Hollandes Cays)