The Google Cloud - We found it!
Posted by

Namani

on

Monday, 5 August 2013
17° 16' 36" S, 177° 6' 18" E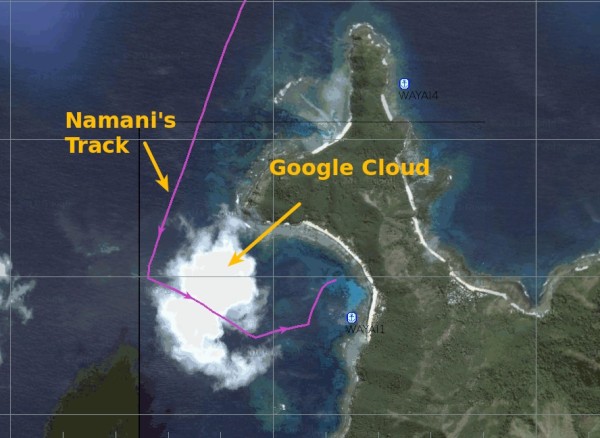 Lots has been written and said about "Cloud Computing" where you have storage and computing capacity available "on tap" as a service via the Internet. Sounds very abstract and we've always wondered where the likes of Amazon and Google keep their respective "clouds" with gazillions of terabytes of storage. Well it's not so abstract after all: We found the Google Cloud right here over Waya Island in Fiji's Yasawa island chain! It may not be covered by the NSA's backup service but you can clearly see it on the Google Earth image above.
A bit of background and explanation:
It is not uncommon here in the tropical SW Pacific to have the nautical chart show your GPS location to be a solid 1/2 mile inland when in fact you see water all around your boat. Or to sail through a stretch of water that looks pleasantly free of obstacles on the chart until you discover the word "unsurveyed" written across your boat's current position. Then you look in the margins of the chart and read a note that says: "Aerial photography suggests that there are isolated uncharted coral pinnacles in this area". Oops...
James Cook and his navigator Bligh did absolutely amazing work when first surveying many of these waters over a hundred years ago. The precision they achieved locally is stunning and the fact that their survey data is still reflected in some of today's charts bears witness to that fact. However, the charts they created where never meant to be overlaid with globally accurate GPS derived coordinates.
Hence, spoiled as we may have become with using GPS derived positions on charts of the North Atlantic, down here we're back to eyeball navigation and nothing beats a good lookout - at least under sunny skies). When visibility is poor and you can't see the coral heads you may however be able to fall back on recorded GPS waypoints from another boat that has already sailed the same leg before you without running aground. Or - more recently - you can take Google Earth images and very carefully calibrate and geo-reference them. Last year in Tonga and now again in Fiji these Google Earth based electronic chart snippets have been highly valued by cruising sailors as you can often see shallow areas on the satellite pictures and the geo-referencing to a GPS grid can be done with very high precision.
'Fabulous!' you say - until you see that right there where you need the satellite image most a cloud obscures those potential obstacles in the approach to your anchorage... In our case we were lucky - the sun was behind us and we could safely eyeball our way in.
Anyway... after a week in the "Blue Lagoon" we had weighed anchor this morning and (motor-)sailed the 30nm to the NW corner of Waya Island, further down the Yasawa chain. We plan to stay here only for one night and then continue to Musket Cove. All is well aboard, stay tuned...
PS: For an interesting alternative view on cloud computing see this YouTube video.