Good-byes and a an early start
Posted by

Namani

on

Wednesday, 27 February 2008
St. Lucia, Anse de Pitons
16° 58' 60" N, 61° 42' 54" W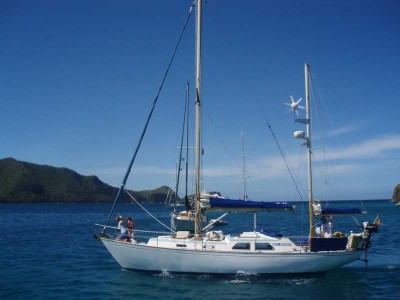 We left Bequia this morning at 4 am to make the 52 nm to St. Lucia against contrary winds before nightfall. It turned out that the wind direction wasn't all that bad and we added a mere 5 nm by tacking. Now we're on a mooring between the Pitons again and will stay here for 2 days to explore Souffriere and its surroundings.
In Bequia we said good-bye to Dave, Jo and Beth from Sea Bright who will sail on south towards Grenada from where they will go towards the Panama Canal to cross into the Pacific with New Zealand as their final destination. While saying good-bye was hard after having tremendously enjoyed their company since Gibraltar we look forward to visiting them at their new home in NZ in the not so distant future. We wish them a safe journey, a great trip and "immer eine Hand-breit Wasser unter dem Kiel"!
We will now keep on going north with our rendez-vous with Jez and Tab in Guadeloupe in mid-March as our next milestone. Stay tuned...